Where there's a will, there's a way…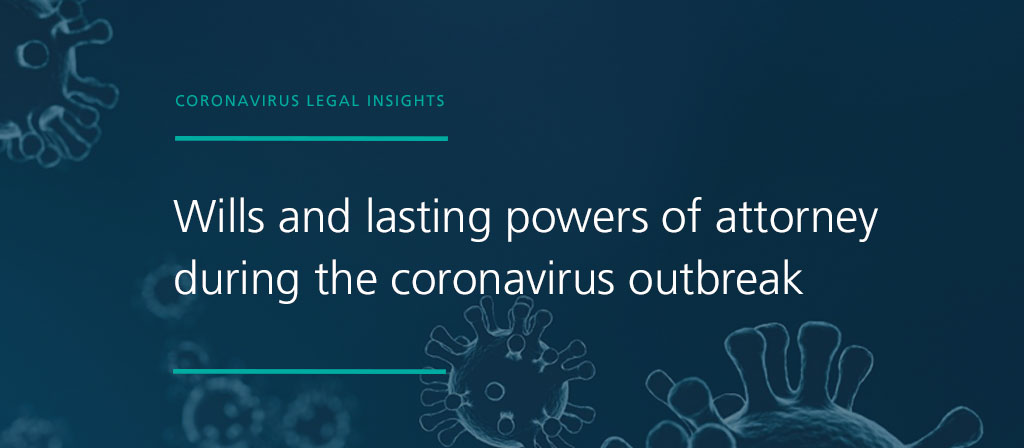 03 April 2020
Traditionally, the practice of making a will or lasting powers of attorney has been somewhat 'hands-on', involving face-to-face meetings, signatures in the presence of witnesses, and so on.
The coronavirus lockdown has abruptly put paid to this way of working, and with demand for wills and powers of attorney surging, we've been busy finding different, yet legally-sound, ways of working with our clients and ultimately ensuring their wishes are fulfilled.
This means that, no matter how complex your wishes, our wills, trusts & probate lawyers can give you the right advice, during the lockdown and afterwards.
How we're helping people during the coronavirus outbreak
Our solicitors and legal executives are very easy to talk to and can help you with any size of estate, from complex cross-border estates to small estates with no inheritance tax requirements.
Getting started
First, contact us to obtain a virtual or telephone appointment with one of our experienced lawyers. If you are a new client to the department, we will first ask you for a little more information about yourself for the lawyer to familiarise themselves with ahead of the virtual meeting or telephone conversation.
Advising you
Our lawyers can meet with you in a mutually convenient way during the lockdown, whether this be by video conferencing (such as Microsoft Teams, FaceTime, WhatsApp or Skype) or where technology does not allow, a telephone appointment. In line with the government's restrictions, we are unable to conduct our usual in-person meetings during lockdown, but please be assured we uphold our usual quality service through video conferencing and over the phone.
The lawyer will discuss the contents of your will at the meeting, advise you on any legal and tax implications that may impact on your estate, and answer any queries you may have.
Once the will has been prepared, we can send draft wills by your preferred way, either by email or post. Please have a thorough read over the will and contact us if you need to make any alterations before signing, as it is not possible to make handwritten changes or attach notes to the final will.
Finding witnesses
Ordinarily we would suggest a face-to-face meeting for the signing of your will, as you need two independent people present to witness your signature. To be considered an independent witness in the eyes of the law, they must not be:
related to you
beneficiaries in your will
spouses or partners connected to your beneficiaries
under 18 years old
Failure to meet these requirements would make the will invalid or invalidate the gift to beneficiaries who have witnessed the will.
We appreciate not everyone will have access to independent witnesses such as neighbours or friends during this pandemic. We are helping clients to overcome will signing dilemmas during the COVID-19 lock down, particularly where clients may be self-isolating, or are elderly or vulnerable. If you do not have access to two independent witnesses please get in touch with us to discuss the alternative options available.
We're here to help
Our highly regarded team can assist you with creating or updating a will, putting in place provisions for a lasting power of attorney, or liaise with you about trusts or other personal affairs during the coronavirus pandemic, and beyond.
We're rated by national legal guides for our expertise, and over the years, have advised generations of the same family on wills, trusts and inheritance tax planning.
As always, if you need legal advice, we're here to help so please get in touch.
Partner and head of the wills, trusts & probate team, Simon Cook has 25 years' experience in the field. He is rated in independent national legal guides The Legal 500 and Chambers High Net Worth.
Email Simon
We're regularly updating our website with more COVID-19 legal insights, so keep an eye on willans.co.uk/covid19 for the latest legal perspectives relating to the coronavirus.
Disclaimer: All legal information is correct at the time of publication but please be aware that laws may change over time. This article contains general legal information but should not be relied upon as legal advice. Please seek professional legal advice about your specific situation - contact us; we'd be delighted to help.
Resources to help
Related articles