The rise of the electronic signature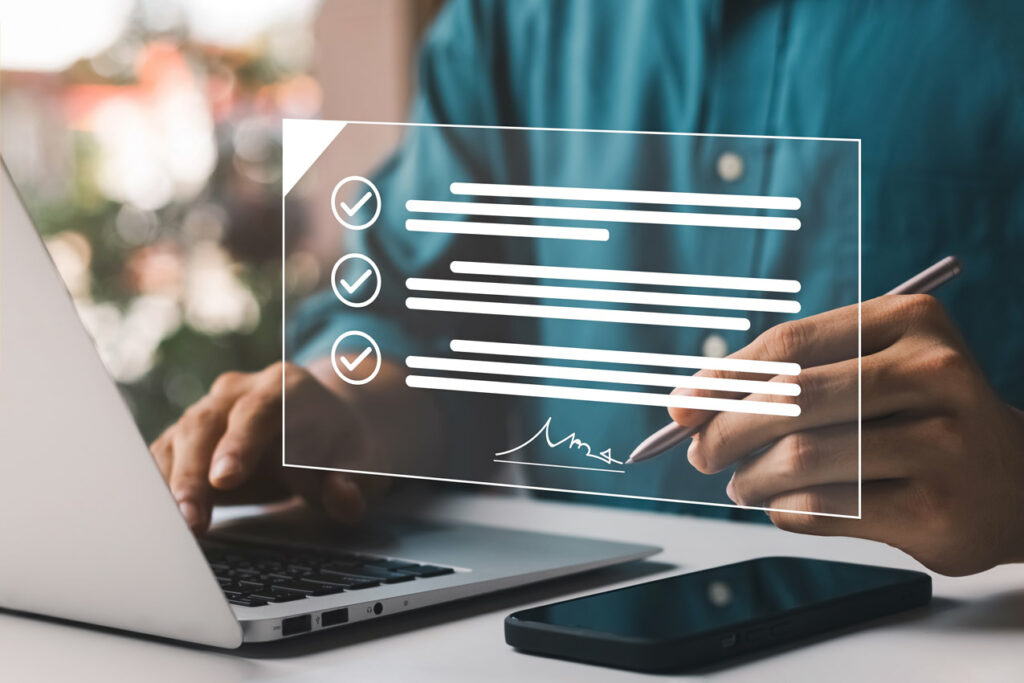 01 August 2023
Our real estate experts explain more about how electronic signatures are now considered legally binding from a property perspective.
In our real estate department, we now regularly use a platform in transactions that allows clients to sign their property documents digitally. This is not only convenient for the parties, but also helps speed up the transaction.
We previously reported in February 2020 in our article, that electronic signatures were not considered good practice when executing property documents, and for the time being the requirement to execute such documents using a physical wet ink signature would continue.
The main reason for this was because most documents in property transactions are required to be submitted for registration or noting purposes to HM Land Registry, who – at the time – did not accept e-signatures.
Since the covid-19 pandemic, HM Land Registry have reviewed their approach and have confirmed they now accept electronic signatures for transfers of property ownership, leases, mortgages and other property-related dealings. They do, however, still require some documents to be signed in wet ink, such as lasting powers of attorney and statutory declarations.
Guidance issued by HM Land Registry confirms they will currently accept the following two forms of electronic signature:
Mercury signatures: This approach allows for a party to sign a signature page in wet ink in the physical presence of a witness (where applicable).
The signature can then be captured by a scanner or camera to produce a PDF, JPEG or other suitable copy, allowing a final copy of the document and the signed signature page to be sent by email to a solicitor to arrange completion.
Conveyancer-certified electronic signatures: This approach replaces a wet ink signature with an electronic alternative. Where a witness is necessary, they are still required to be present, but they too can sign electronically.
The process involves a solicitor uploading the document to an online platform that sends a link to the signatories. Once they have completed the authentication checks, they can then sign the document electronically.
For HM Land Registry purposes, the online platform needs to include a two-factor authentication (by email and mobile phone) to verify the signatories accessing the document and provide assurance that unique individuals have signed it.
Once signed, a certificate will be produced and signed by the solicitor acting to confirm – to the best of their knowledge and belief – that HM Land Registry's requirements for the execution of deeds using electronic signatures have been satisfied.
What's next?
HM Land Registry are also piloting the use of qualified electronic signatures (QESs). These allow signatories' identities to be verified by a qualified trust service provider – a replacement to the assurances a witness usually provides. HM Land Registry are looking at this more widely as part of the next stage of their work on electronic signatures.
Our dedicated team of real estate lawyers will be happy to discuss your requirements with you to ensure the signature method in your property transaction works for you.
Contact us
Acting for local, national and global clients, our Legal 500 and Chambers-rated real estate team has outstanding technical expertise to advise on a huge range of property transactions and non-contentious construction issues.
Disclaimer: All legal information is correct at the time of publication but please be aware that laws may change over time. This article contains general legal information but should not be relied upon as legal advice. Please seek professional legal advice about your specific situation - contact us; we'd be delighted to help.
Resources to help
Related articles