Our year-long partnership with Maggie's nets almost £20k for charity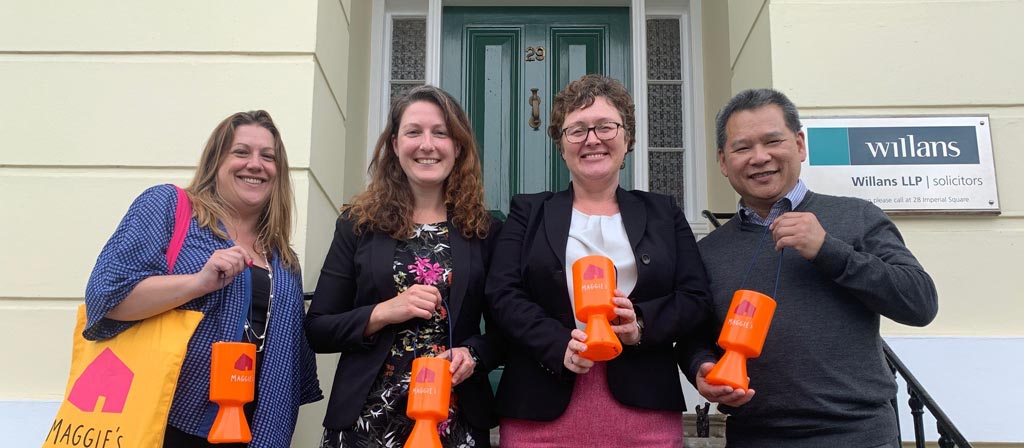 19 June 2020
We're celebrating a "record-breaking" fundraising total just shy of £20k for our charity of the year, Maggie's Cheltenham.
Over the year, our firm's staff, clients and contacts have boosted the funds through a range of action-packed events and activities in aid of the charity. Jump to our video to find out how much we've raised.
Maggie's operates across 25 centres in the UK and overseas to provide support to people living with cancer, their families and friends.
Our fundraising activities over the year have included a business bowling competition, which saw 130 people from leading Gloucestershire businesses take to the lanes, half-marathons, 'dress-down days' and a Bonfire Night-themed baking competition. Our lawyers also donated their time and expertise for Maggie's Will Week, and many of the firm's staff took part in the 'Miles for Maggie's' campaign.
We also joined forces with Maggie's Cheltenham to jointly host a packed-out Christmas carol concert at Christ Church in Cheltenham.
Our fundraising year: a video
Bridget Redmond, managing partner, said; "This is the highest fundraising total on record for the firm, and it's testament to the hard work of our charity committee, and generosity of our staff, clients and connections, as well as the support from the fundraising team at Maggie's.
"It has been a pleasure to back this vital cause over the past year, and it is fantastic that the amount we've collectively raised will help the Cheltenham centre to continue providing much-needed, invaluable support.
"We're very grateful to everyone who donated, attended events and volunteered their time; together we've 'broken a record' in reaching our highest-ever fundraising total."
Anna Mason, Centre Fundraising Manager at Maggie's Cheltenham, said: "We have had a great time working in partnership with Willans for the past year and we are truly grateful for the fantastic amount they have all raised, through hard work and creative fundraising.
"The events have been fabulous, and even though the Maggie's team came last on the bowling night, we enjoyed every minute. You have enabled us to continue to support the thousands of people living with cancer, their families and friends in our local community. Thank you from all of us at Maggie's".
Although Maggie's Cheltenham centre is temporarily closed for face-to-face visits due to the COVID-19 pandemic, the charity is still offering support to all who need it, over the phone, email and via video calls. People who would like support from Maggie's local centre are encouraged to call 01242 250611 or email cheltenham@maggies.org.
At Willans, we nominate a charity yearly to fundraise for. Read more about our commitment to community and charitable causes.
Resources to help
Related articles