COVID-19: The landlord's dilemma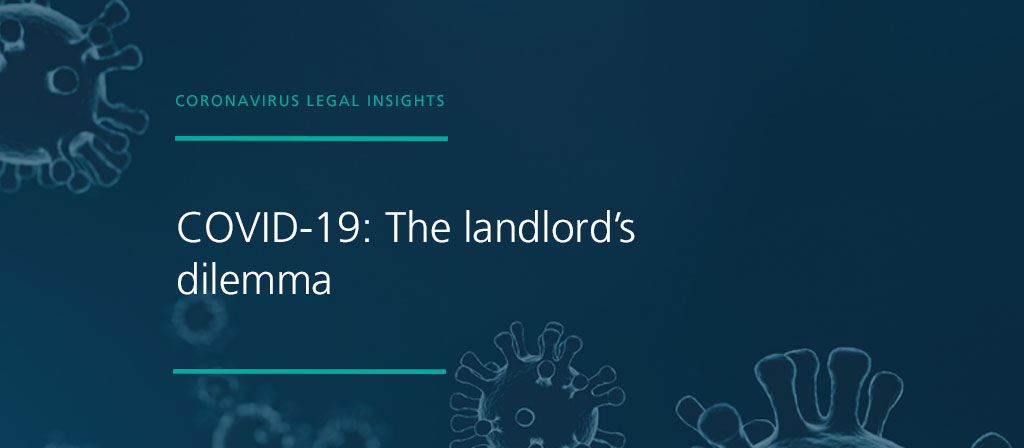 14 May 2020
Much has been made of the steps which have been taken by the government to protect both commercial and residential tenants during the current crisis, which in many cases has resulted in their being unable to either pay rent as it falls due, or comply with some other leasehold obligation.
Landlords of residential property who want to terminate a tenancy for any reason are required by the Coronavirus Act 2020 ('the Act') to give 3 months' notice, whether they serve a notice pursuant to either Section 8 or Section 21 of the Housing Act 1988, and furthermore all current court claims for possession (except 'squatter' possession proceedings) are subject to an automatic stay until 25 June 2020.
Landlords of commercial property are faced with similar issues. In particular, the Act has suspended a landlord's ability to forfeit a lease if their tenant misses rent payments in the period ending on 30 June 2020, and the Corporate Insolvency and Governance Bill prohibits the use of statutory demands and winding up petitions presented from 27 April through to 30 June 2020 where a company cannot pay its bills due to coronavirus. The government is also due to introduce secondary legislation to provide tenants with more breathing space to pay rent, by preventing landlords from using the CRAR procedure (unless they are owned 90 days of unpaid rent).
Crucially however, no action (or perhaps more pertinently, inaction) by a landlord of either commercial or residential property will be regarded as waiving any rights they may have, so the rent liability for the relevant period will still be in place at the end of the relevant period. There is also no restriction on the post-moratorium recovery of interest accruing on rent arrears.
Whilst there may be pressure on landlords to renegotiate lease terms (for example, to reduce the rent) there is no legal obligation on landlords to do so, although it may of be course be in their interests to come to some accommodation with tenants. Where any such agreement is reached, we would recommend that this be documented in writing.
So, what can a landlord do?
In the short term, there are no easy options available to landlords and no imminent protection for them in terms of their own financial obligations. That said, their options do include:
Court proceedings
There is presently no prohibition on a landlord issuing a claim for rent arrears together with the accrued interest. Where a lease includes a clause requiring the tenant to pay the landlord's costs in the event of a breach of the lease these may also be recovered in the course of bringing the claim.
It is worth noting that money claims are not considered to be priority work and it may take some time for court proceedings for rent arrears to be dealt with, however it is an option for a landlord and subject to any restrictions on enforcement imposed by the government during the pandemic, to include the use of a statutory demand or winding up petition, any judgement can be enforced in the usual ways.
Drawing down on a rent deposit
This applies to landlords of commercial property only. There are no 'coronavirus restrictions' on withdrawing sums from a rent deposit. So, subject to the terms of a rent deposit deed, which may include the landlord being required to give notice, and with consideration given as to how to serve a valid notice, this may be an effective tool for a landlord.
Guarantees
There is nothing to prevent a landlord from seeking payment of any rent arrears from a guarantor, whether in accordance with the terms of the lease or under an Authorised Guarantee Agreement (AGA). In either case, care should be taken to ascertain whether the guarantor is financially sound.
We're here to help
We appreciate that it is an uncertain time for commercial landlords and tenants alike, but we're here to help. Our property litigation team is fully equipped to advise you on your rights and obligations during the pandemic, and beyond. Our legal services are operating as normal, with all of our lawyers able to work safely from home.
Email Nick
Nick Southwell is an associate, solicitor in our litigation and dispute resolution team and handles a wide variety of work for both commercial and private clients. This includes contractual disputes, landlord and tenant matters, property disputes and professional negligence claims. He is an accredited civil and commercial mediator.
We're regularly updating our website with more COVID-19 legal insights, so keep an eye on willans.co.uk/covid19 for the latest legal perspectives relating to the coronavirus.
Resources to help
Related articles