COVID-19: a commercial property update for landlords & tenants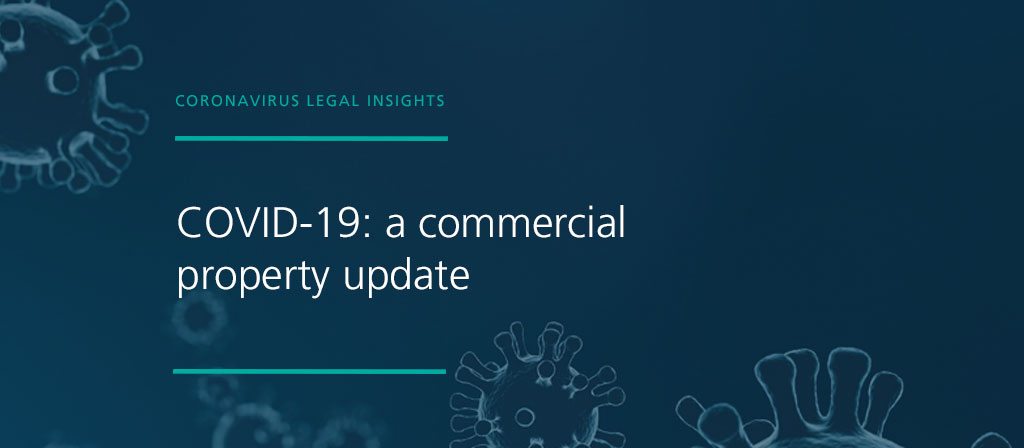 10 March 2021
As you will be aware from some of our previous updates, a number of measures have been put in place to give businesses the breathing space and tools they need to maximise their chance of survival throughout and beyond the COVID-19 pandemic. For those who own or occupy commercial property, the key measures include:
a suspension of a landlord's ability to issue forfeiture proceedings based on non-payment of rent (forfeiture proceedings for non-financial breaches of the lease are not affected); and
an increase of the minimum net unpaid rent that must be outstanding before the commercial rent arrears recovery procedure can be utilised.
The end date for such measures has now been extended to the end of June 2021. The minimum unpaid rent under the commercial rent arrears recovery procedure has been further increased to 457 days from 25 March and will rise further to 554 days on 24 June.
The Corporate Insolvency and Governance Act 2020 came into force on 26 June 2020 and contains further provisions preventing winding-up petitions being presented on or after 27 April 2020 where they rely on statutory demands served between 1 March 2020 and 31 March 2021.
Read about our fixed-fee support for landlords or tenants.
What if a tenant's inability to pay is not due to COVID-19?
Critically, the provisions of the Act do not apply to situations where a tenant's inability to pay is not due to COVID-19. It may be difficult to sufficiently prove, but if a landlord reasonably believes that a tenant is taking advantage of the COVID-19 situation and wouldn't have been able to pay anyway, the court can still wind up a tenant company up if it agrees that is the case. The courts already appear to be taking a tenant friendly approach, and if there is any suggestion that a tenant has been financially impacted by COVID-19, it will be incredibly difficult for a landlord to succeed. Winding-up orders made on or after 27 April 2020 will be void if the court would not have made the order under the new measures.
Although the restrictions have been extended until the end of June 2021, it is important to remember that they are only a temporary measure and that the obligation to pay any arrears will remain when they end. Most leases will also provide for interest to accrue on late payments from the due date until payment is made, meaning the financial burden on a tenant will only increase. No action (or inaction) by a landlord during the suspension period will result in the waiver of its rights; and so for many tenants the restrictions will turn out to have been a stay of execution, putting off the date of payment rather than avoiding it.
What next for commercial landlords and tenants?
Rather than kick matters into the long grass, it is wise for landlords and tenants to consider how the situation might be managed to achieve a satisfactory outcome for everyone. Rent concessions (for example waiver or deferral of some or all of the rent, or an agreed payment plan) for a limited period can help tenants avoid huge bills and proceedings when restrictions end; and assist landlords in meeting their own financial obligations and perhaps ensure they don't lose their tenant. Of course, if concessions are agreed, they should be carefully recorded in writing. If a property is charged then the holder of the charge should agree to any proposal to waive or defer payment of rent; any failure in this respect is likely to place a landlord in breach of its covenants applicable to the legal charge. If there is any guarantor under the lease, they should be a party to any concession arrangement to ensure the terms are also enforceable against them and that they are not inadvertently released from their obligations under the lease generally.
Whether or not concessions are agreed, a landlord may still consider drawing down on a rent deposit subject to the terms of the rent deposit deed; or seeking payment from a guarantor. Landlords should bear in mind however that where there is an agreement to waive or defer rent, the ability to draw down on a deposit may be adversely impacted.
The landscape may look very different for enforcement after the end of June 2021, or it may not, either way we will of course be providing further updates as and when things change.
Want further help?
We know this is a challenging time for many, so we're offering advice at a fixed fee to support tenants or landlords who may have questions hanging over them.
One of our property experts will review your lease and provide you with a 30-minute consultation to discuss your options for a fixed fee of £250 + VAT. Contact Emma to get started.
Email Emma
Whether you're a commercial landlord or tenant, we appreciate that it is a confusing and uncertain time, but we're here to help. Our commercial property and property litigation teams are fully equipped to advise you on your rights and obligations in this most unusual situation. Our legal services are operating as normal, with all of our lawyers working safely from home.
Call our Legal 500-rated commercial property experts on 01242 514000 or email law@willans.co.uk and we will be delighted to help.
We're regularly updating our blog with more COVID-19 legal insights, so keep an eye on this page for the latest legal perspectives relating to coronavirus as well as looking beyond the pandemic.
Disclaimer: All legal information is correct at the time of publication but please be aware that laws may change over time. This article contains general legal information but should not be relied upon as legal advice. Please seek professional legal advice about your specific situation - contact us; we'd be delighted to help.
Resources to help
Related articles