Coronavirus and lease obligations: Q&A for commercial tenants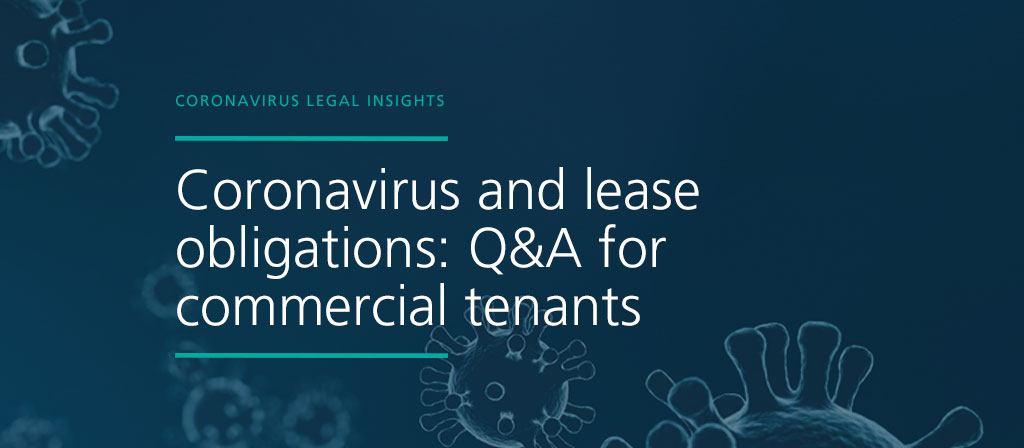 30 March 2020
You'll no doubt be aware of the concessionary measures that are being introduced by the government to help ease the potential economic fallout of COVID-19 on UK businesses.
In the commercial property world, the key development is the protection from eviction for commercial tenants who are unable to pay their rent due to cashflow problems resulting from the COVID-19 crisis.
In short, no business tenant will be forced to move out of their commercial premises, should they miss a rent payment in the next 3 months. The tenant will still be liable for their rent after the 3-month period ends.
These measures are reassuring for tenants, but may be less so for landlords. Various types of rental concession might be agreed, ranging for example from monthly instead of quarterly payments to discounts and deferments.
It is really important that everything agreed between the landlord and tenant is fully documented. In the case of deferment, for example, you will both need to agree on a payment plan, and the landlord should consider whether they charge default interest or compensatory interest, and from what date. Landlords will also need to think about which kinds of payment the concession should apply to. Is it just rent, or service charge too? In the case of retail leases, how should turnover rent be dealt with?
The contractual obligations still prevail, however, and landlords are not under a legal obligation to change the terms of the lease, leaving many "between a rock and a hard place".
During this confusing time, here are just a few of the questions that commercial tenants are asking us at the moment. Click the links to jump to the questions or read on to see all of the FAQ.
What happens if I receive a notice by post while my premises are closed?
Many shops and other workplaces are closed due to coronavirus, but that doesn't mean that they should be forgotten.
In these days of electronic communication, good old "snail mail" can get overlooked. However, certain notices can only be served by post, particularly on tenants of commercial premises, and in the event of a prolonged shutdown for some time, critical notices may get missed. This could lead to tenants losing rights to renew if a notice terminating a lease is overlooked or gets lost, or failing to respond to repairs notices and breaching their leases.
But the worst might be a breach of an insurance policy as regular inspections are almost certainly going to be required to meet insurers' requirements where a property is vacant. It is vital that occupiers of all persuasions make arrangements to collect their post.
Can I rely on a break right to terminate my lease?
Tenants will need to check their individual leases to see whether they have the benefit of any upcoming break right, which allows them to serve notice to terminate the lease in advance of a specific date.  Break clauses usually contain a list of conditions that a tenant will need to comply with, such as giving vacant possession, so you should seek advice before attempting to exercise any break rights.
What if the contractual term of my lease has expired?
If the contractual term of a lease has expired and the tenant is "holding over", it will be possible to bring the lease to an end by serving notice on the landlord.  The required notice period will vary depending on the circumstances and, again, we suggest that you obtain advice on this process.
Does the contract law doctrine of 'frustration' apply?
If neither of the above circumstances are applicable, it could be considered that the contract law doctrine of 'frustration' applies. This refers to an unforeseen event rendering contractual obligations impossible to meet.  However, this is uncharted territory; it has never been applied by the UK courts in the context of a lease, so it is very unlikely that a lease would be considered to be frustrated as a result of COVID-19.
Is COVID-19 a 'force majeure' event?
Similar to above, a 'force majeure' clause is usually seen in a contract law context and essentially frees both parties from liability or obligation when an extraordinary event or circumstance beyond the control of the parties occurs, such as a war, strike, riot, crime, plague or any other event deemed an "act of God".  Unfortunately, this is unlikely to be helpful as force majeure clauses are not usually included in commercial leases.
If all else fails, can I surrender?
It is worth mentioning that a landlord may be willing to agree to surrender a lease if it has other intentions for the premises or is able to re-let the premises to another tenant despite the current market conditions.  The terms of any such agreement should be carefully documented.
We're here to help
Whether you're a commercial landlord or tenant, we appreciate that it is a confusing and uncertain time, but we're here to help. Our commercial property and property litigation teams are fully equipped to advise you on your rights and obligations in this most unusual situation. Our legal services are operating as normal, with all of our lawyers able to work safely from home. Call our Legal 500-rated commercial property experts on 01242 514000 or email law@willans.co.uk and we will be delighted to help.
We're here to help
We're regularly updating our blog with more COVID-19 legal insights, so keep an eye on this page for the latest legal perspectives relating to the coronavirus.
Disclaimer: All legal information is correct at the time of publication but please be aware that laws may change over time. This article contains general legal information but should not be relied upon as legal advice. Please seek professional legal advice about your specific situation - contact us; we'd be delighted to help.
Resources to help
Related articles