Corporate transactions: Getting back to business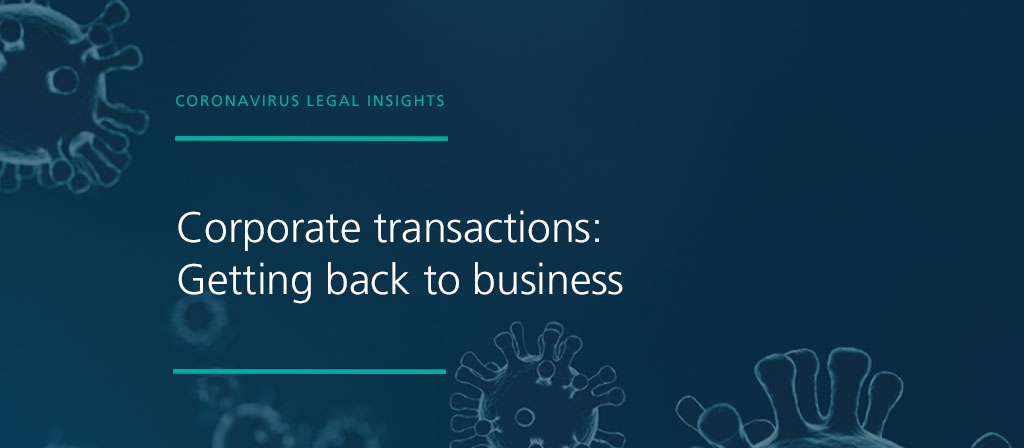 28 May 2020
The current coronavirus lockdown has inevitably resulted in numerous transactions and commercial initiatives being put on hold or, worse, aborted.
This includes company and business acquisitions and sales and commercial arrangements which have all been impacted by the climate of uncertainty and the difficulties of valuation which flow from the pandemic. Businesses should nevertheless take the opportunity to plan for the future and use the time to "get their house in order", so that when things get back on track they are well-placed to maximise their opportunities.
How to "get your house in order" ready for a corporate transaction
From a legal perspective there are a number of actions which will benefit the company, whether it is already in negotiations for a sale or inward investment, or even if nothing of that kind is currently envisaged. These include:
reviewing your key commercial contracts; dealing with any missing/undocumented arrangements, identifying key contractual risks and liabilities and developing standard documents to protect the business from these issues in the future;
dealing with, and ideally resolving, third party disputes and ensuring that all third party consents and necessary consents have been obtained and are documented – (if they are overlooked they can become deal-breakers in the context of sale negotiations resulting frequently in the sellers having to give wide indemnities to the purchaser to cover off the risks);
considering whether a corporate reorganisation or other change to the legal structure of the group or business would simplify any future transaction or deliver tax or management benefits;
ensuring that your statutory registers are up to date (and you know where they are) and that all Companies House filing requirements have been duly completed and are correct (for example, out of date charges may still be registered against the company at Companies House);
assembling complete and accurate details of company assets, contracts, employees, financial instruments and loan documentation, etc. so that these are readily available for the purposes of disclosure on a sale;
if the company is contemplating an acquisition, conducting detailed due diligence and reviewing the results of the due diligence process in good time so that the risks can be assessed and appropriate further queries raised.
The list of actions summarised above is not, of course, exhaustive, but is intended to give some ideas for positive planning during the current lockdown.
We're here to help
We appreciate that it is a confusing and uncertain time, but we're here to help. Our corporate and commercial lawyers are fully equipped to advise you on your rights and obligations in this most unusual situation. Our legal services are operating as normal, with all of our lawyers able to work safely from home.
Email Paul
We're regularly updating our website with more COVID-19 legal insights, so keep an eye on willans.co.uk/covid19 for the latest legal perspectives relating to the coronavirus.
Paul is a partner in the corporate and commercial team, with over 30 years of experience. He trained and qualified at magic circle firm Allen & Overy before moving to Cheltenham, joining Willans as a partner in 1995. He has advised on all kinds of corporate transactions with a particular focus on acquisitions, disposals, start-ups, joint ventures, MBOs and re-organisations.
Resources to help
Related articles