Corporate & commercial issues: COVID-19 FAQ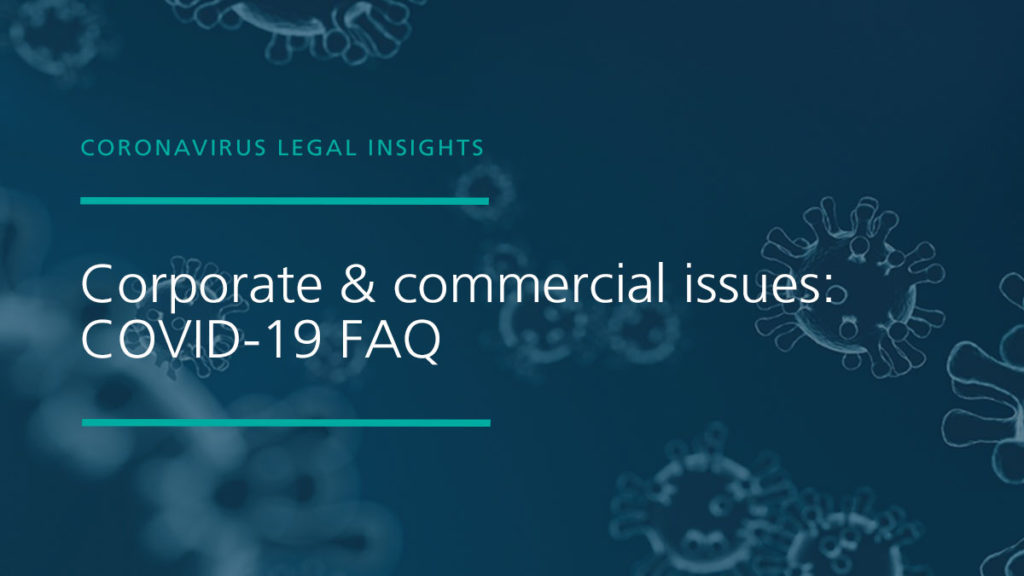 16 April 2020
The global outbreak of coronavirus (COVID-19) and the government's resulting emergency measures have had severe implications for many businesses. Read on for answers to some frequently-asked questions on corporate & commercial issues relating to the coronavirus.
Commercial issues
Is there anything I can do to prepare for disruption to contracts caused by the coronavirus (COVID-19) pandemic?
It is a good idea to have an open dialogue with your customers and suppliers early on, if you think your contracts are going to be disrupted as a result of the pandemic.
Check your customer contracts to see if there is a force majeure clause which you may need to exercise if your suppliers have failed to supply products or services under their contracts with you.
Check your business interruption insurance arrangements to see if these cover losses arising from the COVID-19 outbreak or its knock-on effects. Many insurance policies have exclusions for epidemics, pandemics and contagious diseases.
What will happen if I am unable to perform a contract or a counterparty is unable to perform?
Force Majeure
Check to see if the contract contains a force majeure clause as this may allow the contract to be suspended or terminated by the party unable to perform their obligations. The drafting of this clause will dictate whether or not the coronavirus pandemic is covered. Even if it is covered, in order for the party seeking to rely on this clause to be relieved from liability, they would need to be able to show that the coronavirus pandemic prevented them from being able to perform their obligations, and not just that performance was made more difficult or expensive.
Frustration
Unlike with force majeure, frustration is a common law principle and is not covered by an express term within the contract. It may be possible to say that a contract has been frustrated if an unforeseeable event has taken place through no fault of the parties, which means that their contractual obligations have become either illegal or impossible to perform, or radically different to what was contemplated by the parties at the outset. If a contract is frustrated, it is immediately terminated and both parties released from performance.
If I don't want to terminate a contract, is it possible to renegotiate and amend the terms of the contract?
There are lots of reasons why it may be better to renegotiate the terms of a contract rather than terminate, not least to protect the business relationship between the parties. Check to see if the contract contains variation or change control provisions which will dictate whether the contract can be varied and the procedure for doing so. Although it may be tempting to rely on a conversation or a handshake to vary a contract, it is crucial to record any changes in writing, to ensure that the changes are legally enforceable and to help prevent disputes further down the line.
Read more about the implications of coronavirus for commercial contracts.
 Corporate issues
You were in the process of trying to buy or sell your business before the coronavirus (COVID-19) outbreak. Is there anything you can include in the sale and purchase agreement to protect yourself?
As a buyer, you can seek to build in more protections in the form of indemnities, warranties, carve-outs, termination rights and a price adjustment clause as well as performing more rigorous due diligence on the business you are buying.
As a seller you may wish to ask for payment up front or greater security in the event of deferred payment. You should also ensure that you are thorough in the disclosure process and that any warranties in the agreement remain true in light of the pandemic, or if these need to be amended or qualified through disclosure.
Check to see if the agreement contains a material adverse change clause and whether this has been defined to include epidemics, pandemics, contagious diseases or words to that effect. It is more likely to be the buyer who will want to exercise a material adverse change clause, in order to walk away from a deal.
Can a company still hold board meetings and shareholder meetings during the lockdown?
There is nothing in the Companies Act 2006 which precludes the holding and conducting of meetings by electronic means.
The company's articles of association do not need to contain an express provision permitting meetings to be held electronically. However, you will need to check that the articles do not expressly restrict the company's ability to hold meetings remotely using electronic communications.
My business revenue has fallen dramatically, and I will soon be experiencing cashflow difficulties. What help can we get from the Government?
You may be eligible for an interest-free loan under the government-backed Coronavirus Business Interruption Loan Scheme (CBILS). This Scheme enables funding of up to £5 million pounds to be made available for businesses which have a turnover of less than £45 million on terms that the Government pays the interest and all fees for 12-months. Personal guarantees are not required for loans of less than £250,000.  This Scheme is no longer limited to companies which are unable to obtain finance on normal commercial terms. We can help by reviewing the loan documentation for a small fixed fee – find out more.
Check whether you are eligible for help under the government's Coronavirus Job Retention Scheme which enables employees to be furloughed at the cost of the government.
You should be aware of the concessionary measures that have been introduced by the government to ease the pressures on business tenants. No business tenant will be forced to move out of their commercial premises if they miss a rent payment in the next three months.
You can continue trading without fear of being held personally liable for the company debts due to changes in the insolvency laws (referred to below).
Contact your local authority to check whether any cash grants are available to you as a local business.
What amendments to insolvency laws has the government introduced?
The government has temporarily suspended wrongful trading provisions with effect from 1 March 2020 for an initial period of three months. These measures will allow directors to continue to allow the company to trade when they know or ought reasonably to have known that the company was at risk of becoming insolvent, without the threat of personal liability for wrongful trading.
These FAQs are designed to address some of the key commercial and corporate issues your business may face, although they are not intended to be a substitute for legal advice; please get in touch if we can help you with any specific queries.
We're here to help
We appreciate that it is a confusing and uncertain time, but we're here to help. Our corporate and commercial lawyers are fully equipped to advise you on your rights and obligations in this most unusual situation. Our legal services are operating as normal, with all of our lawyers able to work safely from home.
Contact us
We're regularly updating our website with more COVID-19 legal insights, so keep an eye on willans.co.uk/covid19 for the latest legal perspectives relating to the coronavirus.
Disclaimer: All legal information is correct at the time of publication but please be aware that laws may change over time. This article contains general legal information but should not be relied upon as legal advice. Please seek professional legal advice about your specific situation - contact us; we'd be delighted to help.
Resources to help
Related articles