Fixed price legal advice for SMEs & the Coronavirus Business Interruption Loan Scheme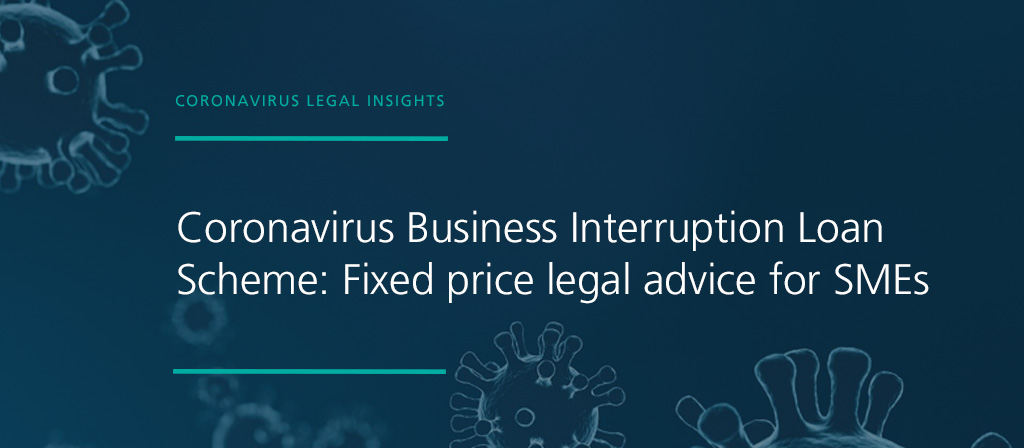 17 December 2020
The Coronavirus Business Interruption Loan Scheme (CBILS) has thrown a much-needed lifeline to businesses experiencing cashflow difficulties as a result of the coronavirus outbreak.
17 December 2020
Today, Rishi Sunak has confirmed an extension of the government-guaranteed business loan schemes until the end of March 2021. He has also announced the extension of the Coronavirus Job Retention Scheme (also known as the furlough scheme).
Businesses will be given until the end of March to access the Bounce Back Loan Scheme, Coronavirus Business Interruption Loan Scheme, and the Coronavirus Large Business Interruption Loan Scheme. These had been due to close at the end of January 2021.
Find out how we can help you, with fixed-fee support for businesses who are looking to access the Coronavirus Business Interruption Loan Scheme.
16 April 2020
The eligibility criteria of CBILS was relaxed on 3 April 2020 to enable more businesses (where annual turnover doesn't exceed £45m) to access the funding during a time of need, through one of over 40 accredited lenders across the UK.
Under the scheme, finance of up to £5m is available for eligible businesses, with interest and fees absorbed by the government for 12 months. There are no guarantee fees for SMEs (the lender pays a fee to access the scheme) and guarantees are offered to the lender to encourage them to lend.  However, the borrower will still have to fund all fees and interest after the initial 12 month-period.
Over the last few weeks banks have been flooded with applications. But amid this increased sense of urgency, businesses should approach this scheme with the same degree of caution as they would with any other loan facility.
Without the government scheme, it's no secret that a significant number of SMEs would find themselves in financial difficulty due to these unprecedented market conditions. Although taking advantage of the scheme may seem a 'no-brainer' to many businesses, it's arguably more important than ever for businesses to understand the small print; you don't want to be tripped up by your own safety net.
While it can be tempting to rush through the application as demand on lenders snowballs, we've been approached by new and existing clients over the past few weeks for advice on the terms of these loans and the liabilities they may be facing. It's great that so many organisations are being assisted by the scheme, but it is also encouraging to see businesses wanting to be fully prepared and informed before signing on the dotted line.
How we can help: A fixed-price legal support package
With this in mind, we're offering a fixed fee to businesses who are looking to access the Coronavirus Business Interruption Loan Scheme and would be pleased to discuss this with you. If this is something that may help your business, do not delay in contacting us as accredited lenders are already being inundated with applications.
We will support you with clear and commercially minded advice concerning your application by:
reviewing your loan agreement and advising on its terms
reviewing any security documents and advising on their terms
advising on any liability of group companies to repay the loan.
Fee: 0.25% of the loan amount plus VAT (£250 plus VAT minimum).
Please note, this excludes commercial property advice (where a charge needs to be taken over a property, for example).
Contact Chris
We're here to help
We appreciate that it is a daunting and uncertain time, but we're here to help.
Whether you are looking for advice on how on protecting your business while accessing the Coronavirus Business Interruption Loan Scheme, or on how to handle contracts with customers and suppliers (including how to cancel orders, terminate or enforce contracts or amend their terms), force majeure, or have employment-related queries or need help with handling a business dispute, our multi-disciplinary team of lawyers can support you.
Chris Wills is a partner in our Legal 500-rated corporate & commercial department. He has over a decade of experience in advising businesses on a range of transactions and issues, including mergers and acquisitions, debt and equity funding, joint ventures and shareholders' agreements, partnership and LLP agreements, group restructures and commercial collaborations. Chris advises businesses across a broad range of sectors, from start-ups and family businesses to established companies operating on a global scale. You can contact Chris via telephone on 07749432733. 
We're regularly updating our website with more COVID-19 legal insights, so keep an eye on willans.co.uk/covid19 for the latest legal perspectives relating to the coronavirus.
Disclaimer: All legal information is correct at the time of publication but please be aware that laws may change over time. This article contains general legal information but should not be relied upon as legal advice. Please seek professional legal advice about your specific situation - contact us; we'd be delighted to help.
Resources to help
Related articles