Coronavirus: What it means for residential landlords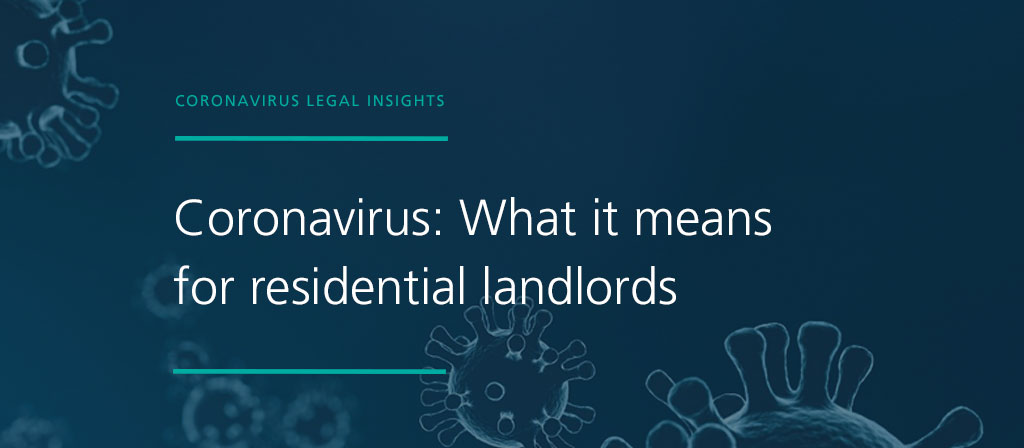 02 April 2020
The government has passed emergency legislation to protect tenants from eviction during the COVID-19 pandemic, by the Coronavirus Act 2020. These changes affect nearly all tenants in the private rented sector although lodger agreements and other licences are not affected.
These changes are only intended to be temporary; they aim to prevent tenants from being made homeless and hence to restrict the spread of the virus.
What are the main changes that landlords should know about?
For notices to quit, section 8 and section 21 notices, the landlord must give at least three months' notice before they can apply to court for possession. This applies regardless of which ground is used for section 8.
All existing claims for possession are suspended for 90 days; and
In future all landlords will be expected to abide by a pre-action protocol before commencing any claim to recover possession.
In the case of both points 1 and 2 above the length of notice and the suspension of existing claims may be extended up to six months in future.
In practice the effect of this is that the earliest date a landlord will be able to recover possession of their property is 30 June 2020.
Is a new pre-action protocol on the horizon?
A pre-action protocol is a series of steps that a party must take before issuing a claim. The intention of this is to encourage more pre-action contact between the landlord and tenant, with a view to settling disputes and avoiding litigation where possible.
The changes to the pre-action protocol have not yet come into force, and neither is it yet clear what exactly they will entail, although based on the existing pre-action protocol for social landlords the steps a landlord will be required to take before issuing a claim will be greatly increased, and a failure to comply with the protocol may result in the court adjourning any claim or striking it out entirely where possession is not sought on one of the mandatory grounds.
As we've stated above, it is anticipated that a new pre-action protocol will come into force in the near future, and where a landlord thereafter seeks to issue a claim to recover possession from a tenant where, for example, they have fallen into rent arrears because of the coronavirus, it is likely that they will be expected to have worked with the tenant to try and agree a reasonable repayment plan before serving a section 8 notice if their claim is to be successful.
We're here to help
Whether you're a residential landlord or tenant, we appreciate that it is a confusing and uncertain time, but we're here to help. Our residential property litigation team is fully equipped to advise you on your rights and obligations in this most unusual situation. Our legal services are operating as normal, with all of our lawyers able to work safely from home.
Nick is an associate, solicitor in our litigation and dispute resolution team and handles a wide variety of work for both commercial and private clients. This includes contractual disputes, landlord and tenant matters, property disputes and professional negligence claims. He is an accredited civil and commercial mediator.
We're here to help
We're regularly updating our website with more COVID-19 legal insights, so keep an eye on willans.co.uk/covid19 for the latest legal perspectives relating to the coronavirus.
Disclaimer: All legal information is correct at the time of publication but please be aware that laws may change over time. This article contains general legal information but should not be relied upon as legal advice. Please seek professional legal advice about your specific situation - contact us; we'd be delighted to help.
Resources to help
Related articles