Contesting a will: A complete guide to contesting a will
26 May 2023
Lawyers often refer to disputes around inheritance and challenging the validity of wills as 'contentious probate'. On this page, we'll focus on contesting a will; that is, exploring the reasons why a will may not be valid and how it can be legally challenged on this basis.
Overview
Click on the links on the table of contents below to jump to the different questions.
Everyone's will should reflect their true wishes, and the law recognises this. If you think someone's will hasn't been made properly, that it may have been forged, or the person making it had been pressurised or not understood the meaning of the will, you may be able to contest it on the basis that it is not valid.
Alternatively, if the will is valid, but you feel that you've been left out, treated unfairly or have not been properly provided for by a  family member or someone you depended on, you might be able to claim financial provision under the Inheritance Act 1975.
We recommend you seek legal advice from a specialist will dispute solicitor if you are considering contesting a will. It can be a time-consuming and stressful process for the unacquainted; there is a strict time limit and rules around making claims. The right guidance, however, will maximise your chances of making a successful claim.
Contact us
What are the reasons for contesting a will?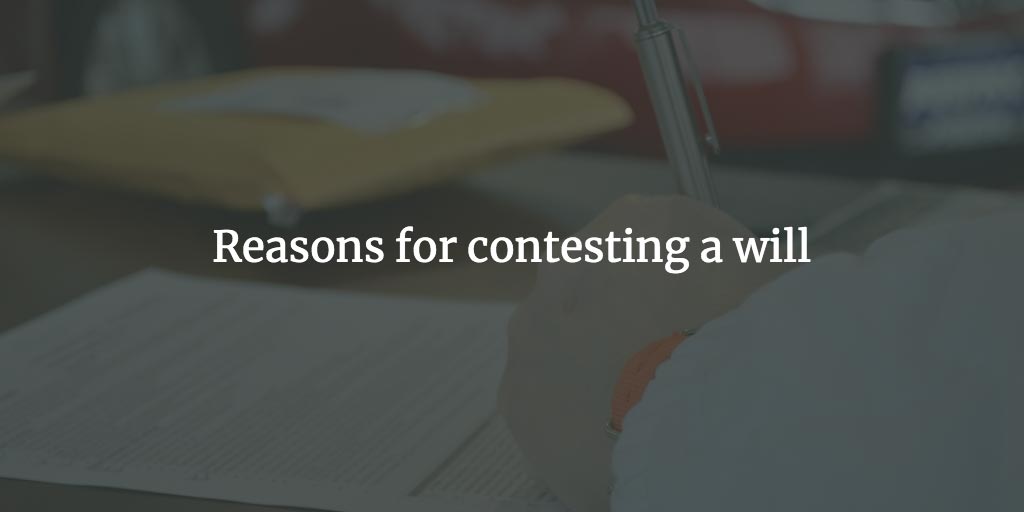 If you think a will has not properly reflected the deceased's final wishes or you have concerns about how a will was made, you may wish to challenge its validity. You will need the help of a legal advisor to establish whether parts or all of the will, may be invalid and we can assist you.
There are several reasons why a will might be invalid, which we will expand on further below:
Want of due execution
Want of knowledge and approval
Undue influence
Fraudulent calumny
Fraud or forgery
Lack of testamentary capacity
Alternatively:
if you consider there may be a mistake or error in the will, as a result of a clerical error or a failure to understand the deceased's instructions, which means that the will fails to carry out the deceased's intentions, you may be able to make a claim under section 20 of the Administration of Justice Act 1982 for rectification of the will.
if the will is valid, but you feel that you've been left out, treated unfairly or have not been properly provided for by a family member or someone you depended upon, you may be able to make a claim under the Inheritance (Provision for Family and Dependants) Act 1975 for reasonable financial provision.
Contesting a will? Speak to a specialist solicitor today.
Contact us
Grounds for contesting a will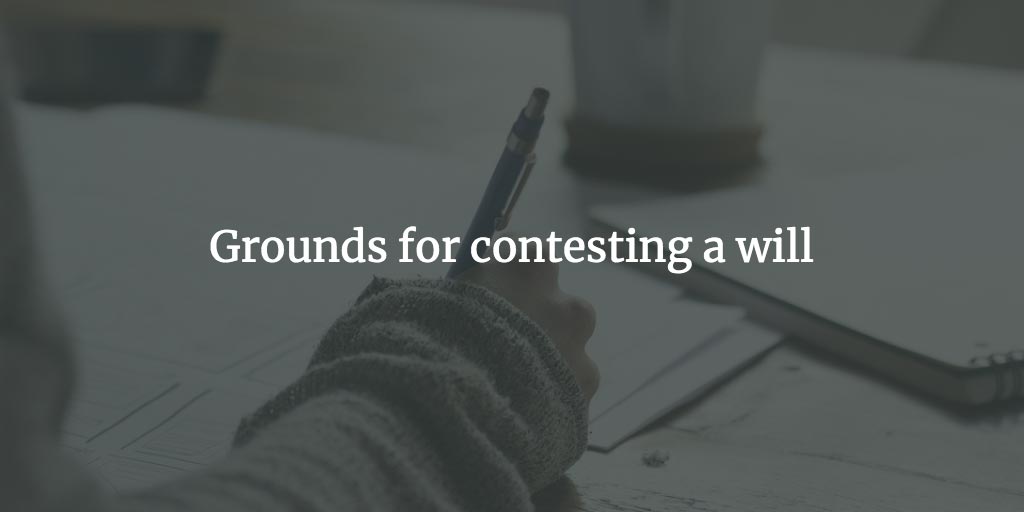 There are many ways in which the validity of a will can be challenged. These include whether the testator (the person who made the will) had knowledge and approval of what they were doing, whether it was properly signed by the testator, and whether there was a lack of testamentary capacity. We explore these points in more detail below:
Has the will been properly executed?
Strict rules are governing the signature of wills. It is not unusual for the person making the will, and their witnesses, to get this wrong. Clerical errors can lead to invalid wills, as can poor drafting which makes the testators wishes unclear or unable to be properly fulfilled.  Where a will is invalid as a result of drafting errors we can advise on bringing claims for professional negligence against solicitors or will writers.
Has the will been altered or forged?
From time to time we deal with cases where there is a suspicion that the will has been altered or forged in some way, or that it has been created fraudulently. For example, the handwriting or signature on the will might be different from that of the person who was supposed to have made it.
Was the person under pressure (put under undue influence) to make the will?
The courts understand that sometimes vulnerable people are pressurised or coerced into making a will on terms which they are not happy with. This is known as 'undue influence'.
Did the person have the mental capacity to make a will?
To have the mental capacity to make a will, a person must fulfil several different criteria, such as knowing the consequences of making their will and knowing the contents of the estate they are leaving behind. Namely, they'll need to understand what they're doing and be of 'sound mind'. If the person has an illness that prevents them from thinking rationally, that can cause doubt about their mental capacity. Lawyers refer to this as 'lack of testamentary capacity'.
Did the person know of and approve the contents of the will?
If there are any suspicious circumstances around how the will was made, then this may cast doubt over the validity of the will, and whether a court would find that the deceased could have known and approved the contents. An example of this would be if one of the major beneficiaries played a big part in arranging or even writing the will themselves.
Challenging broken promises
If you have been promised a gift or other property from the person that has died, and this hasn't been reflected in their will, you may still be able to make a claim for it. This is called proprietary estoppel, and it is a legal phrase for what most people will see as a 'broken promise'.
To make a claim, you'll need to show that you were promised this property, that you relied on the promise being kept, and that you'd be disadvantaged if the promise isn't kept. It's up to the court whether they give you all or some of the property, or whether they compensate you from other parts of the estate.
We can help you to bring or defend claims like these.
Who can challenge a will?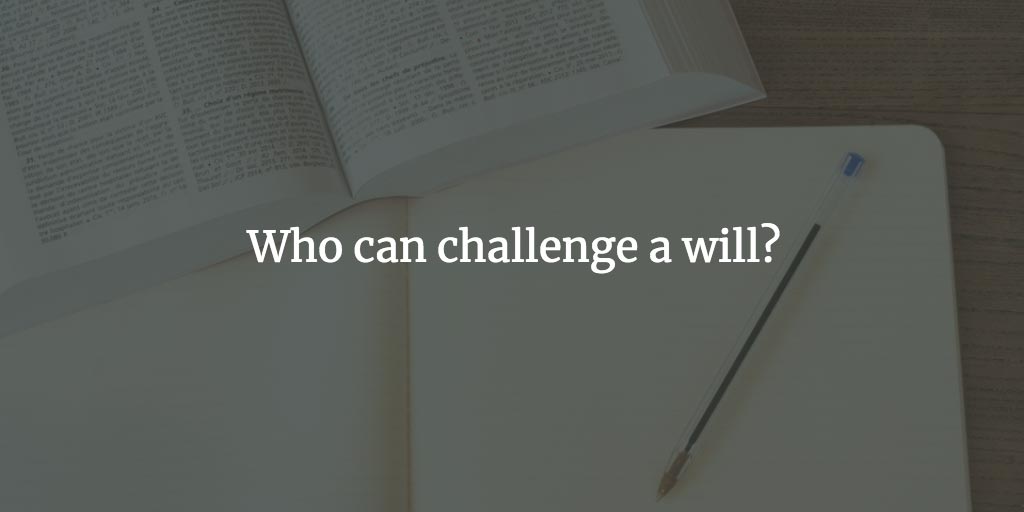 In brief, a person contesting a will should have a vested interest in it, meaning they must be a spouse, child, cohabitee or a person who is expressly mentioned in the will, or a previous will.
What happens when contesting a will?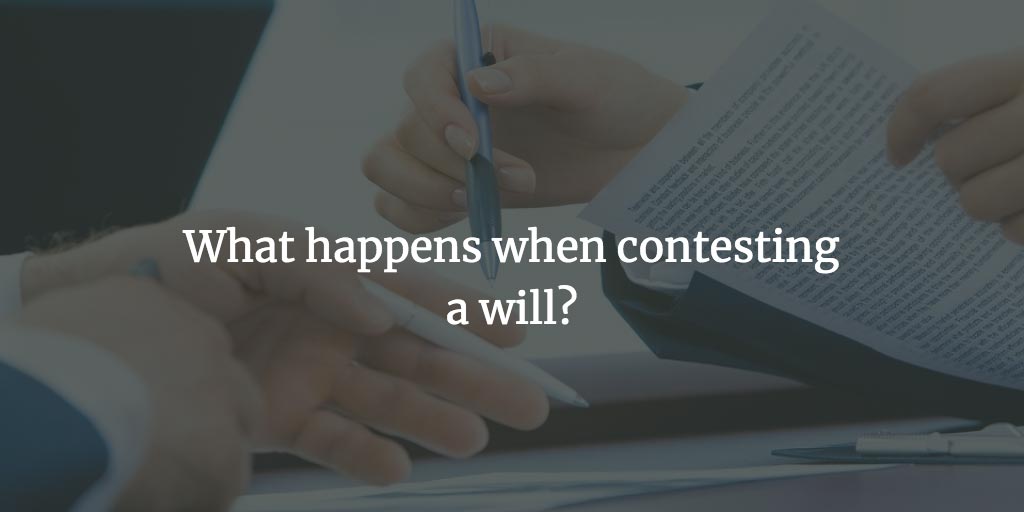 Provided you qualify, and you have grounds to contest, you should get legal advice straight away from a solicitor or appropriately-qualified lawyer. You will need to submit a claim before probate is granted.
Submitting a formal claim
Once your solicitor or lawyer has considered your position and thinks that you may have a claim, the next step is for that claim to be prepared and submitted to the Probate Registry office. Once this has been done (the process is known as a caveat) a probate cannot be issued. This will mean that there is a halt in the process of distribution of the estate of the deceased, and the claimant must be notified of any actions concerning the probate.
A caveat will normally last for six months, and it can be extended after that by an application.
Resolving the dispute
Ideally, disputes should be resolved before they reach court. Sometimes this is possible through mediation or other forms of dispute resolution. In the real world, this isn't always possible and if the parties cannot reach an agreement, then the claim will proceed to court (litigation).
It is always difficult to predict how long a case will last or the level of costs that will be incurred in bringing or defending a claim, and this uncertainty is one of the considerations the parties should bear in mind when deciding to proceed to court.
Get detailed advice on contesting a will, speak to a solicitor today.
Contact us
What are the time limits for contesting a will?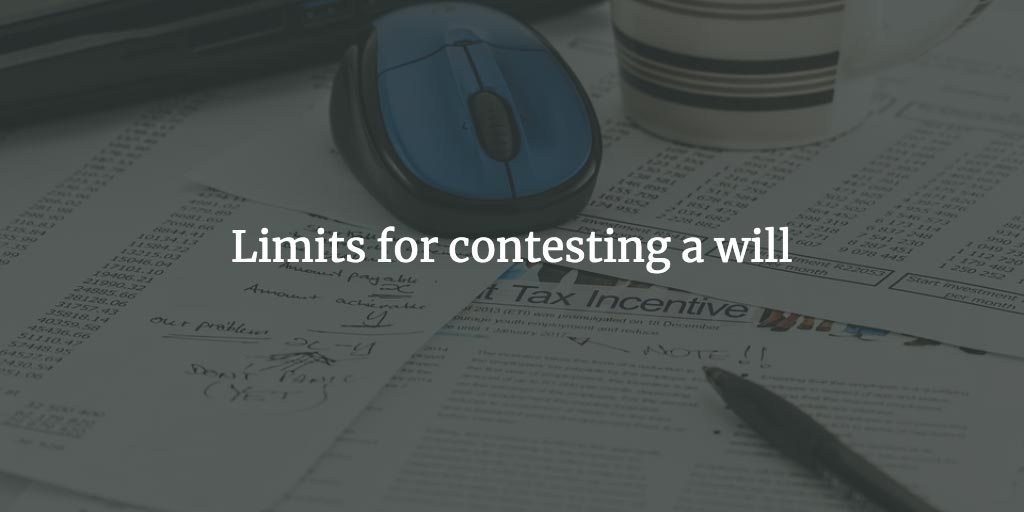 You must seek legal advice as soon as possible if you wish to contest a will or bring a claim against an estate to establish whether a time limit may apply to your claim, as different rules may apply to your case.
If you wish to contest the validity of a will, there is technically no strict time limit to do this; however, it is still very important to act as quickly as possible as it can become more difficult to bring a claim if the estate assets have been distributed.
If you wish to bring a claim under the Inheritance (Provision for Family and Dependants) Act 1975 for reasonable financial provision you have 6 months from the date of the grant of probate within which to issue your claim at court.
If you wish to bring a claim for rectification of the will under section 20 of the Administration of Justice Act 1982, again you have 6 months from the date of the grant of probate within which to issue your claim at court.
In some cases, you may still be able to bring a claim outside of these 6 months and we will be able to advise you whether this is likely to be possible; however, you must seek legal advice immediately in these circumstances.
Costs of contesting a will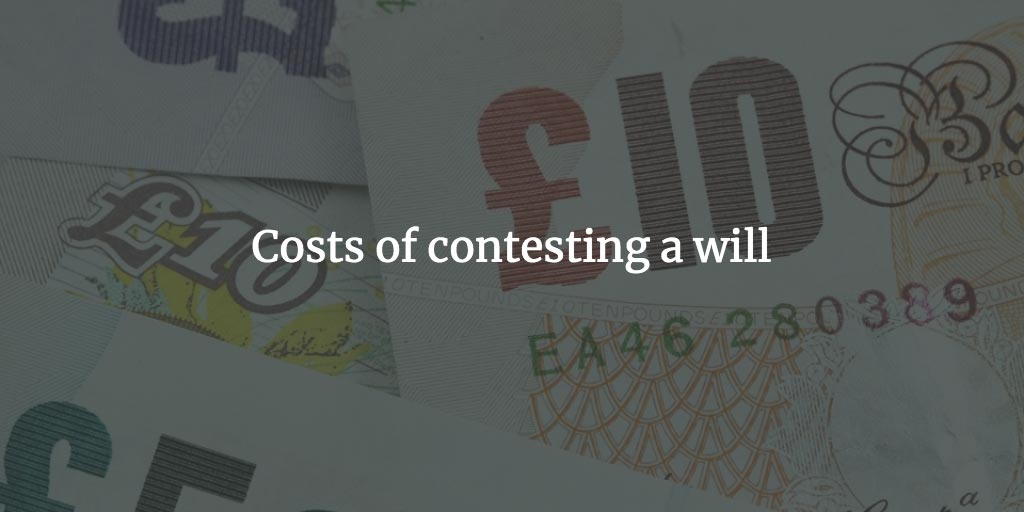 It is no secret that litigation can be expensive and many people worry about the potential cost of contesting a will. Bringing claims can be a very long process due to the amount of work involved. This, following on from the death of a loved one, can be a very stressful exercise.
The costs of contesting a will vary as every case is different; some cases involve more work than others. We recognise that whilst you may have a strong claim, you may feel very reluctant to challenge the will due to the likely costs involved, and of course, the risk of a cost order being made against you if your claim was ultimately unsuccessful. 
We are dedicated to ensuring that you have access to our services, and we have therefore developed a range of flexible funding options to suit our client's needs and circumstances, alongside the legal system.
How can I fund a contested will claim?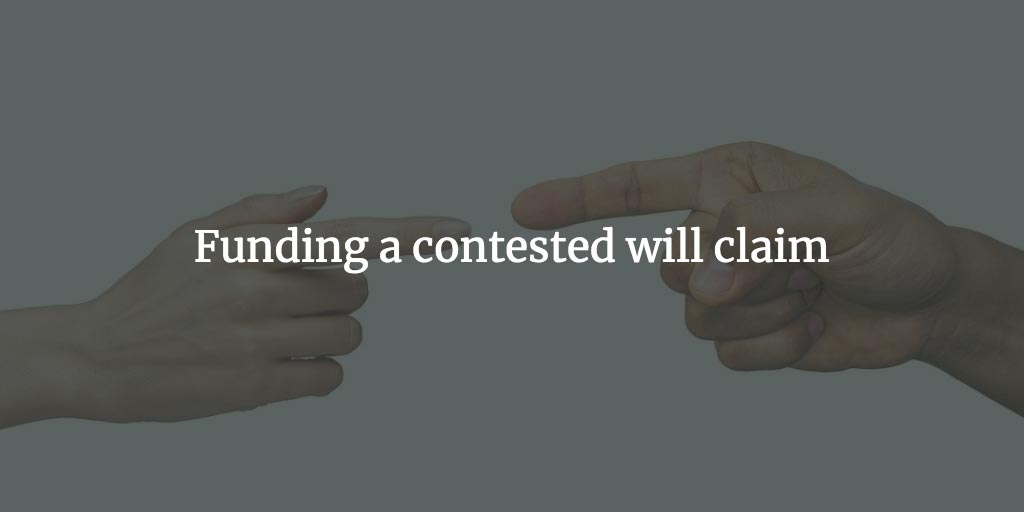 Here we will run through a range of options for funding your contested will claim:

'No win no fee'
Where we have assessed that you have good prospects of successfully bringing a claim and that the size of the estate is large enough to pay any costs orders that may be made against it, then we may be prepared to enter into a conditional fee agreement (CFA) with you, which could be tailored to your financial circumstances.
A CFA allows for all or part of our fees and expenses to be payable only in specified circumstances. Generally, if you lose the case, you will not have to pay for the fees and expenses that are subject to the CFA (the conditional fees). If you win the case, you will be liable to pay all fees and expenses, including the conditional fees, and a "success fee". The advantage is a reduced risk to you if the case is lost. The disadvantage is that any success fee will be payable to us in addition to our normal fees, to take account of the risk that we carry of not being paid. This "success fee" is not recoverable from the losing party. 
An alternative form of CFA may be where we agree to work for a reduced hourly rate which would be payable by you irrespective of the outcome of the litigation. However, in the event of a successful outcome, you would become liable for the difference between the reduced hourly rate and the hourly rate we would have otherwise have charged you.
In each case, and to determine whether your claim has prospects of success and therefore is suitable for a CFA, we would need to carry out some initial investigatory work which would normally have to be paid for by you on a private fee-paying basis.
Damages based agreement (DBA)
A DBA is a type of contingency fee agreement under which you pay our fees if you are successful and obtain an order that the other side pays damages. The amount due will be an agreed percentage of the compensation received. This is therefore only suitable in higher value claims where you are the claimant and expect to receive a monetary remedy if successful.
As this is a percentage of damages awarded to you, it will be payable by you. If the case is unsuccessful, we may not be entitled to any or part of our fees, depending upon the wording of the agreement.
Deferred fees
In some situations, we can offer our service to you on a deferred fee basis, which means that you can pay at the end of the case.
Privately funded claims
We also deal with claims on a privately paying basis. In doing so, we would discuss our charges with you at the start of our involvement and arrange for your claim to be dealt with proportionately and with the right level of legal advisor to suit your budget. We will provide you with a full costs estimate, so as to allow you to manage your finances to fund the claim.
Legal expenses insurance
We can explore with you whether you may already have legal expenses insurance with an existing insurance policy which may provide you with cover to bring a claim and provide you with an indemnity in the event of adverse costs orders being made against you.
After the event insurance
To mitigate the risk of adverse costs orders being made against you if your claim is ultimately unsuccessful, we can investigate and organise insurance policies which may not only cover the costs of your disbursements, such as court fees and counsel's fees but also the other side's costs if you are not successful and a costs order is made against you.
Learn more about your funding options for contesting a will by speaking to a solicitor today.
Contact us
Who pays for contesting a will?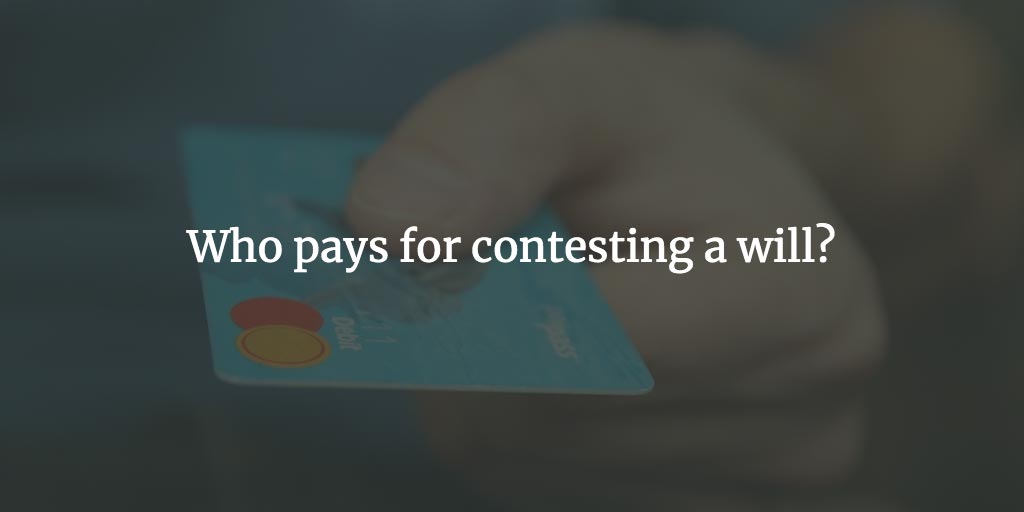 Although the responsibility for paying costs after a claim is always at the discretion of the court, the general rule is that the losing party will be ordered to pay the winning parties' costs.
In this sort of claim then, were you to successfully challenge a will the presumption is that your costs will be payable by the estate.
On the other hand, if you are unsuccessful, then (subject to one or two exceptions to include where you can show that the person making the will or the persons interested in the residue of the estate have been the cause of the litigation) you will be required to pay not only your costs but also any costs incurred by the successful party.
This issue must then be carefully considered before you decide to bring a claim as ultimately if a claim was issued and concluded at a final hearing (which may be as long as 12 to 18 months later) costs may well be many thousands of pounds and can even be more than the value of the estate.
In our experience as solicitors, we find that a clear majority of cases do not conclude at trial and instead the parties can agree on terms of the settlement, either by negotiating in correspondence or at a form of alternative dispute resolution such as mediation. We have a strong success rate in helping our clients to resolve their claims on terms which reflect the merits of the case against the costs risks and stress of being involved in litigation.
How long does it take to contest a will?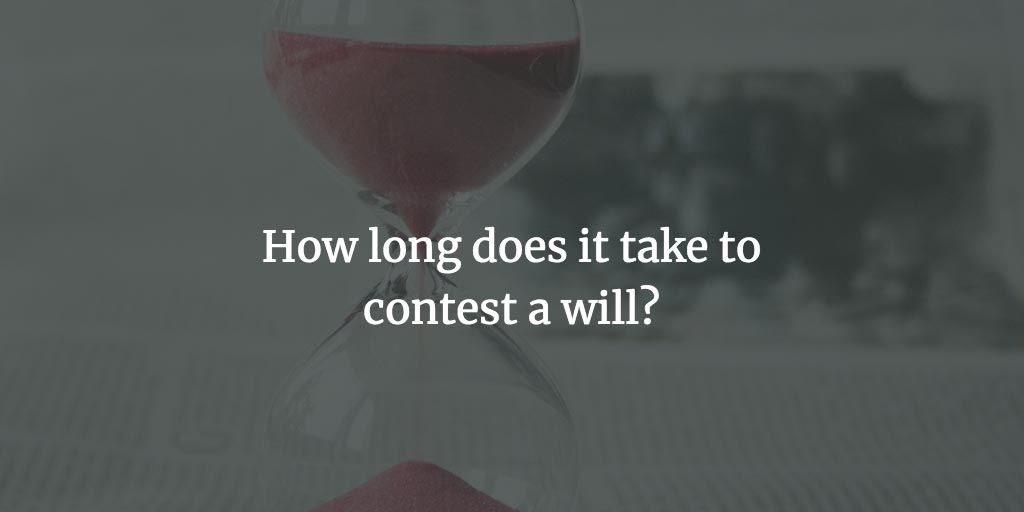 This will depend on the circumstances as each case is very different. We will be able to give you an estimate of the timescale that a claim may involve at the start of the matter.
The length of time your claim will take depends on many factors, such as the investigations that are required, whether you and your opponent are prepared to consider Alternative Dispute Resolution (ADR), such as mediation, at an early stage to attempt to agree or whether the claim continues to a trial. We will provide you with the best possible estimate of the timescales involved at each stage of your claim.
Can a will be contested after probate?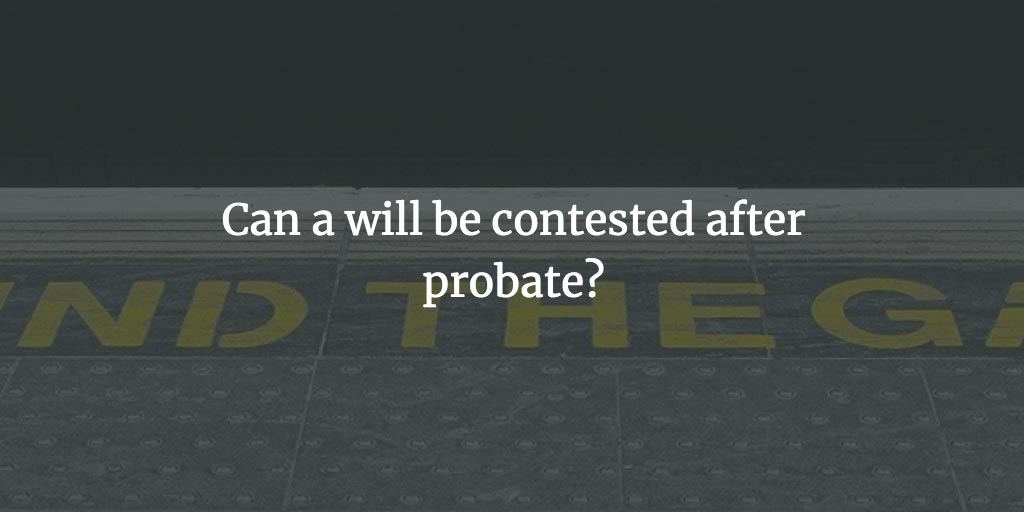 There are strict deadlines in place and although contesting a will after probate is possible, it is much more difficult, may take a lot longer and may well cost more. It is particularly important to seek professional guidance in this scenario. 
Contesting a will based on mental capacity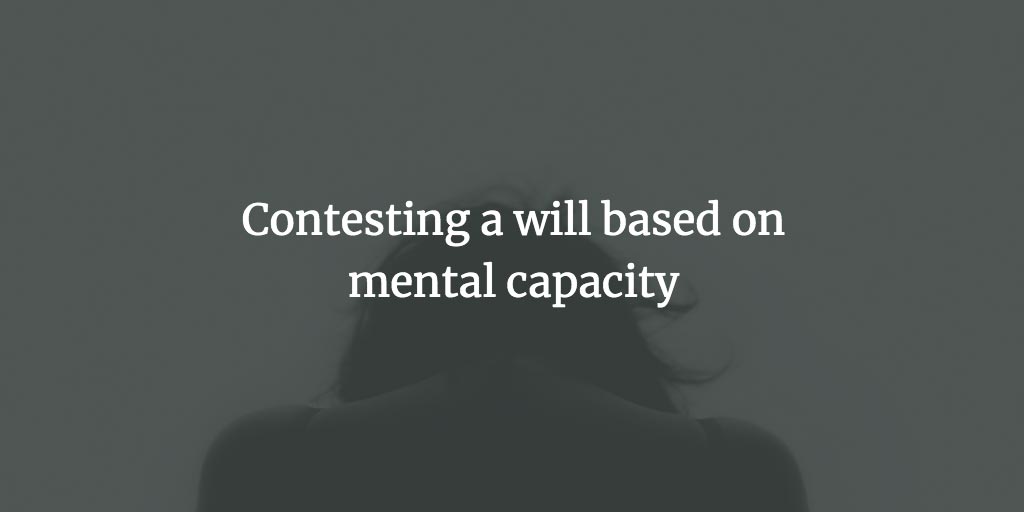 A writer of a will must fulfil certain criteria to be considered to have 'testamentary capacity'. In brief, they must:
be of sound mind when they make and sign their will

understand exactly the extent of the items listed in their estate, such as possessions and property, and

understand who they are choosing to leave items to, and who will receive nothing.
If the person was found not to have had testamentary capacity at the time they made their will, it could be invalid.
This legal ground is referred to as 'lack of testamentary capacity' and is one of how a lawyer might contest a will.
It is common for issues around lack of testamentary capacity to arise where the testator (the person making the will) has Alzheimer's disease or dementia. However, if a person had dementia or Alzheimer's disease at the point when they made a will, it doesn't automatically make it invalid. It all depends on whether the person meets, or met, the criteria for testamentary capacity above.
The courts understand that there may be intervals and different periods in which the testator will be of sound mind and has the required testamentary capacity to make a will. For example, in the early stages of dementia, episodes, where there is a lack of capacity, may be infrequent.
When there are concerns about capacity, it is important to seek advice from a suitably qualified and experienced legal professional. It is vital to ensure that certain steps are followed when taking instructions for the will. The solicitor can also seek a doctor's opinion at the time if necessary. Following the steps properly at an early stage will help to reduce potential disputes that may arise later about the testator's capacity.
Worried about a will's legitimacy? Speak to a specialist solicitor and learn your options for contesting a will.
Contact us
Can wills be contested on behalf of someone else?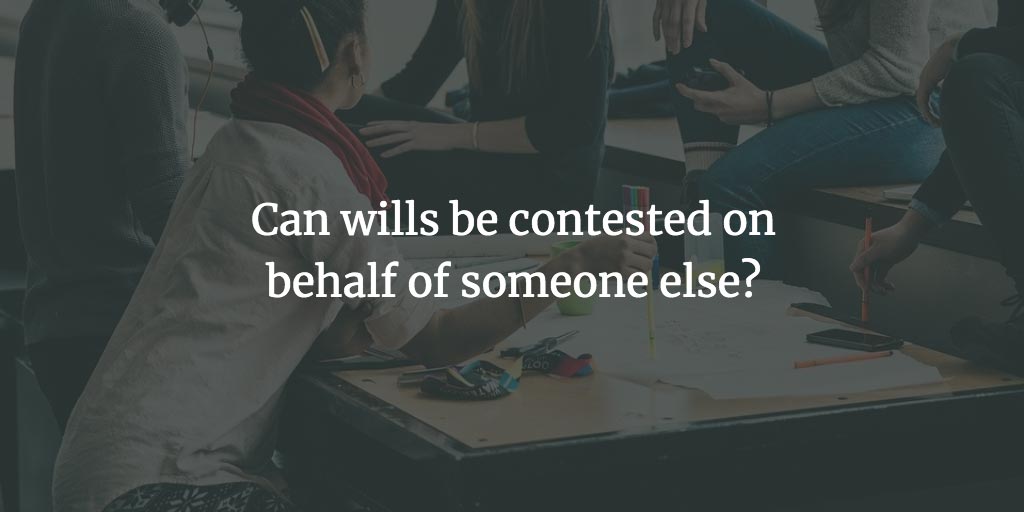 It may be possible to contest a will or bring a claim on behalf of someone else, however, this would depend on the individual circumstances of the case. We would be able to discuss this with you if this is something you wish to consider or require assistance with.
Can an executor contest a will?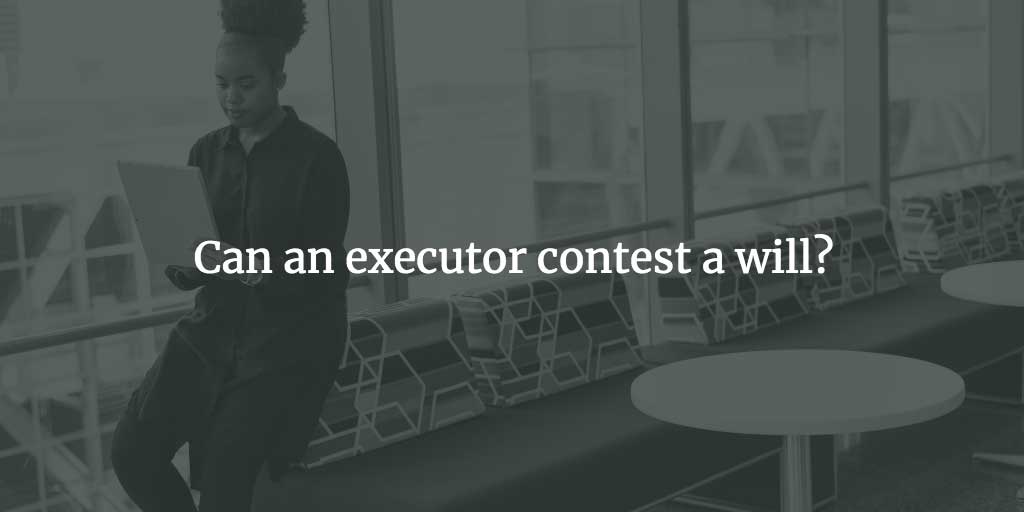 Yes, if you are named as an executor you can contest the will.
However, if this situation was to arise, it is likely you would be required to give up your role as executor. The reason for this is that an executor must administer the deceased's estate by following the will. If the executor wishes to challenge the will, then they will not want to administer the estate as the will directs and a conflict of interest will arise.
Do I need to involve a court for contesting a will?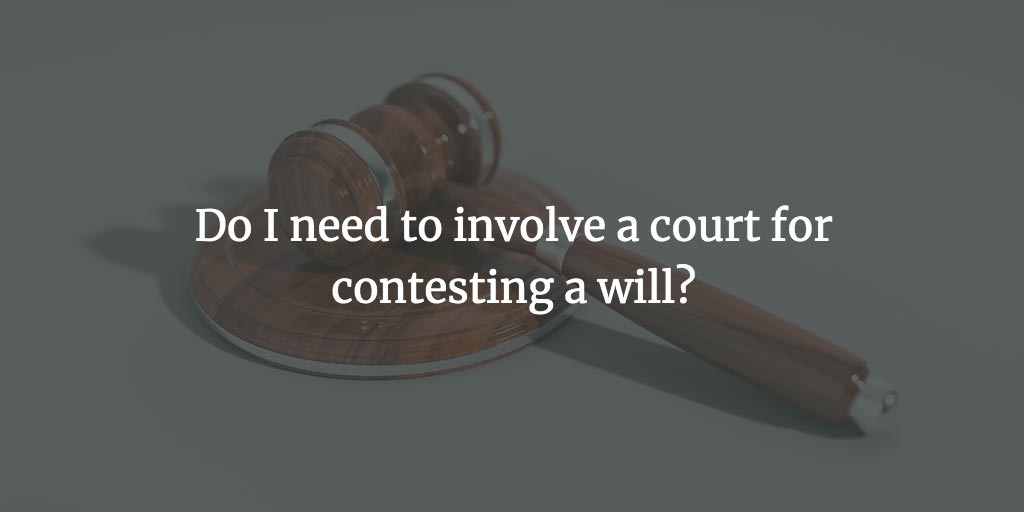 No, you do not necessarily need to involve a court or issue court proceedings to contest a will or make a claim against an estate as litigation (court proceedings) should be a last resort. We will advise you about the steps that should be taken before court proceedings are issued.
Many disputes of this kind are resolved before reaching court proceedings as parties should consider whether negotiation or a form of alternative dispute resolution, such as mediation, may enable them to settle the dispute without the need for court proceedings to be commenced. ADR can often be very effective in helping parties to reach an agreement.
Naturally, if these methods do not enable parties to agree, it should then be considered whether court proceedings should be issued.
Are handwritten wills valid?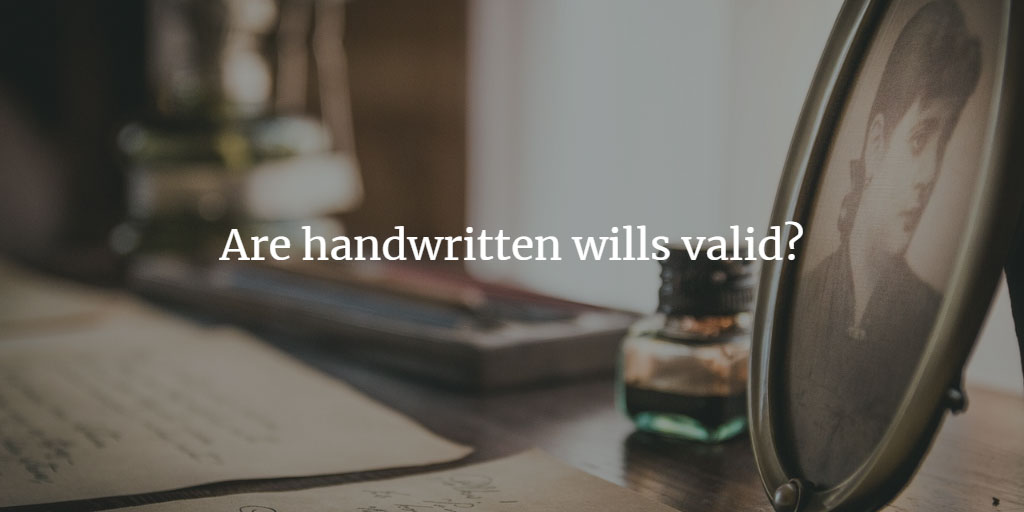 Legally a will does not have to be prepared by a solicitor. However, preparing a will without seeking legal advice can be risky; for a will to be valid, there are certain legal requirements which must be complied with. One important requirement set out in law dating back to 1837, is that the will must be signed in the presence of two or more witnesses present at the same time. If this is not carried out correctly, then the will is likely to be invalid.
The importance of the witnesses being present at the will signing was highlighted in a recent case which dealt with the estate of Professor Robert Whalley. Professor Whalley prepared a handwritten or "holographic" will in 2018 leaving his entire estate, approximately £1.9 million, to Professor Ebrahimi and his wife in equal shares.
The will was signed by Professor Whalley on 3 May 2018, but the witnesses signed on 4 May 2018 separately. The judge found that the signing did not comply with the legal requirements set out in the Wills Act. Therefore, they had not validly attested the will. There was, however, a second chance for the will to be declared valid; on the back of the 2018 will, there were two further signatures dated 3 May 2018. It was claimed that the witnesses had visited the Professor at home on 3 May and it was there the will had been signed, although the witnesses did not know the document was a will.
As for why the professor then had the will witnessed a day later, it was claimed this was due to concerns the 3 May witnesses could not legally sign the will as they were not UK nationals.
At the trial, the judge was asked to consider whether the witnesses had complied with the legal requirements, and in answering that question, whether the will was  valid or not. The last witness for Professor Ebrahimi was one of the 3 May witnesses, Dr Pezouvanis. He was asked whether the contents of his witness statement confirming how the will was signed was true, to which his response was "No". When asked how he would like to correct his statement he simply replied: "There was no meeting on 3 May 2018". In light of this evidence, there was no doubt, the will was not valid.
A holographic will can be an early indicator that a will is not valid. With a handwritten will, not only is there an increased risk that the legal requirements have not  been complied with, but the situation lends itself more readily to a testator being unduly influenced, or not properly consulted about the contents of a new will.
If the will then leaves out people who would ordinarily have expected to benefit, or is not in keeping with the testator's previously known wishes, then it could be the case that the decision not to instruct a solicitor has been orchestrated to avoid too many questions being asked.
If you have concerns about the validity of a will then seek legal advice as soon as possible. There may be steps which can be taken to stop the administration of the estate and ensure distributions are not made. This will allow time to investigate the circumstances in which the will was prepared, including time to speak with the witnesses.
Contact us if you need advice on contesting a will.
Contact us
Will there be a rise in contested wills after coronavirus (COVID-19)?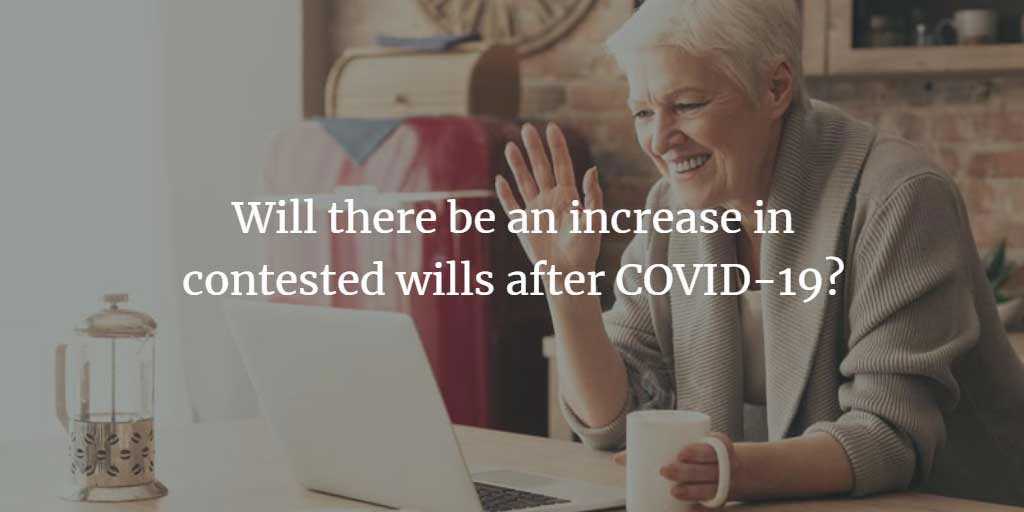 Solicitor Jessica Whooley explains more about the COVID-19 pandemic and whether contested wills will become more commonplace.
For many months now, we have been bombarded with information about COVID-19 and death tolls. It therefore seems unsurprising that there has been a surge in the number of people preparing a will, as the future seems uncertain and we seek to protect the people we care about.
Writing a will seems like a straightforward process, but for many reasons it can be much more difficult than you might think. Will writers are not just taking instructions but are also taking into consideration whether the person writing the will (the testator) has the mental capacity to do so, and that it is a true reflection of their intentions.
As a result of lockdown and social distancing there is now an additional challenge. Signing a will in accordance with the law has become a herculean task. Will writers have had to become creative, with will signings having taken place in gardens, through windows, in car parks and even sometimes virtually. There have however been concerns that virtual will signings may not be valid. Over the summer, the Government stepped in to confirm that virtual wills are, in certain circumstances, to be valid under new legislation introduced in September, the reforms being backdated to 31 January 2020.
However, if a testator prepares a will shortly before their death, making significant changes to who is to benefit from their estate or excluding those who may usually expect to benefit, there could raise concerns that something untoward is going on. Of course, there may be genuine reasons for such decisions, but at virtual will signings, how can a solicitor be sure the testator is not being pressured? A will writer will likely never know if an unscrupulous individual is present behind the camera. A scan of the room will only be evidence that nobody can be seen, not that the testator is truly alone.
Furthermore, in circumstances where a professional in not involved in the preparation of the will, how can a witness be sure the will which they have signed is the one the testator has signed? If the will is being signed at different times then it is very possible a third party could, when alleging to help the testator to send the will to the witnesses, swap the document to one which benefits them more favourably. If the will were ever to ne challenged, the witness may not be able to confidently confirm they signed the same document as the testator because inevitably, at some stage, will be out of the testator and witness' possession.
Failing to put a will in place, or following the legal requirements, can lead to catastrophic consequences for those left behind. Contesting a will, inheritance and probate disputes can be stressful and damaging for families later down the line, so it is vital to follow the correct processes and procedures.
There are many reasons why someone might dispute a will after the testator dies, ranging from clerical errors or mistakes with the will through to issues like undue influence or doubts over the testator's mental capacity. A solicitor or lawyer is your first port of call if you find yourself facing a legal problem relating to an inheritance dispute or challenging a will.
At Willans, we have a team of lawyers and solicitors specialising in will validity claims. We are able to assist either in claims by those seeking to challenge the validity of a will or defend against such claims. If you would like to discuss your claim and how we may be able to assist, then please contact us for an initial discussion.
If you have any concerns about the validity of your own will or someone else's, whether it was made during lockdown or before, get in touch with our experts.
Concerned about the validity of your will? Speak to a specialist solicitor.
Contact us
How we can help
If the person's will has already been made, and you wish to challenge it on the basis that there was a lack of testamentary capacity, you will need to seek specialist advice from a lawyer. Our specialist inheritance & trust disputes team can help you with this, so please get in touch.
If you would like to start the process of contesting a will, it goes without saying that this is a sensitive and complex area of the law, and you should always take tailored legal advice.
Our specialist solicitors and lawyers have substantial experience in challenging the validity of wills, resolving inheritance disputes and contentious probate law. We count members of STEP (Society of Trust and Estate Practitioners) and ACTAPS (the Association of Contentious Trust and Probate Specialists) among our highly-regarded team, and we're rated for this specialism in independent legal guide The Legal 500 UK. To find out more, get in touch to explore your options and find out how we can help you.
Contact us
Disclaimer: Please note that this page is for guidance only and does not replace legal advice. 
Resources to help
Related articles