Divorce and finances: A guide to dividing assets upon divorce or separation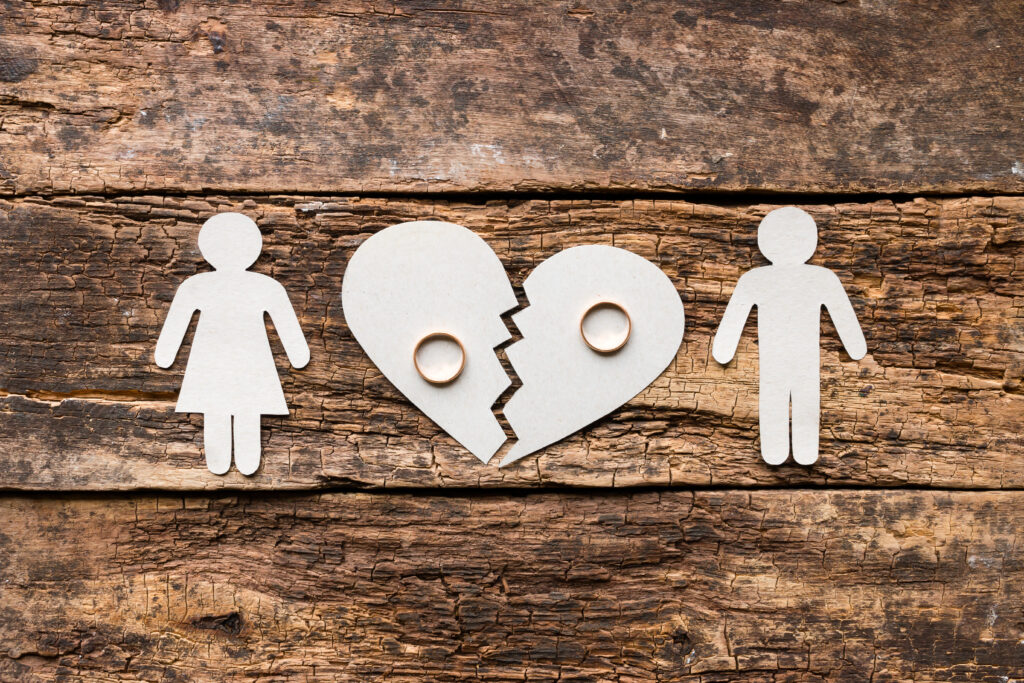 26 May 2022
On this page, we offer a comprehensive guide to divorce and finances. Read on for more information about financial remedy orders, asset protection, and dividing up your personal and business assets.
Frequently asked questions when dividing up finances on divorce
Click the links to jump to the answers.
When you get divorced or dissolve a civil partnership, you need to divide your possessions, money, and assets in a fair way. To make your agreement legal you need to apply to the UK Courts for a financial remedy order.
For some couples this can be quite a straightforward exercise. Unfortunately for many the sensitive issues arising in financial discussions, especially where contributions are unequal or where there is just not enough money to go round can lead to disputes.
When it comes to sorting out your divorce or dissolution and financial arrangements, a specialist family lawyer is a worthwhile investment. They will help you to focus on what is important and what is not and help you to achieve a timely and amicable resolution where possible.
Remember, everyone's financial situation is different. This information is a general guide only, and there's no substitute for tailored advice. If we can assist you with the financial aspects of your divorce or separation, please do get in touch.
Need specialist legal advice on dividing assets on divorce or separation? Contact us.
Contact us
How do I make a financial agreement when separating or divorcing?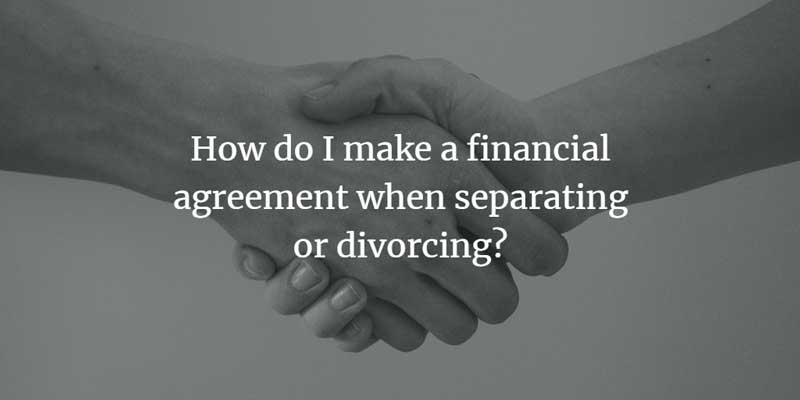 You've made the decision to divorce or separate, and now you're faced with untangling your finances.
Even in a straightforward case, this is rarely a simple task. The impact of dividing one household's finances across two is going to be felt by both parties.
The assets that may be divided include:
the family home
other property you own (for example, buy-to-lets)
your pension pot (this includes your state pension as well as private ones)
savings
any business interests, and
all other investments.
To start with, you will each need to make "full and frank disclosure" to each other of your financial circumstances. This should include the considerations above, along with any money you owe from loans, or credit cards.
Thought needs to be given to each party's post-divorce capital and income needs. You must keep each other informed of any changes in your financial circumstances throughout the process.
Accessing help and advice
The online calculator from the Money Advice Service is a useful tool to use to establish a clear picture of your financial circumstances.
Consider using a financial adviser well-versed in divorce and finance. They can help you to review your assets and give you a clearer picture of the most tax-efficient way in which to divide them.
Once you have reached a point of agreement, you will need to apply for a financial remedy order, also called a consent order. Without this, your agreement isn't legally binding, so it is important to make this official.
If you need support with your talks, you could seek help from a family mediation service. If your talks break down completely, you can apply to the court and initiate a process where a judge will help you to work out what your financial remedy order should be. It is wise to find a recommended family lawyer to assist with any court application. See also 'what to do if we can't agree'.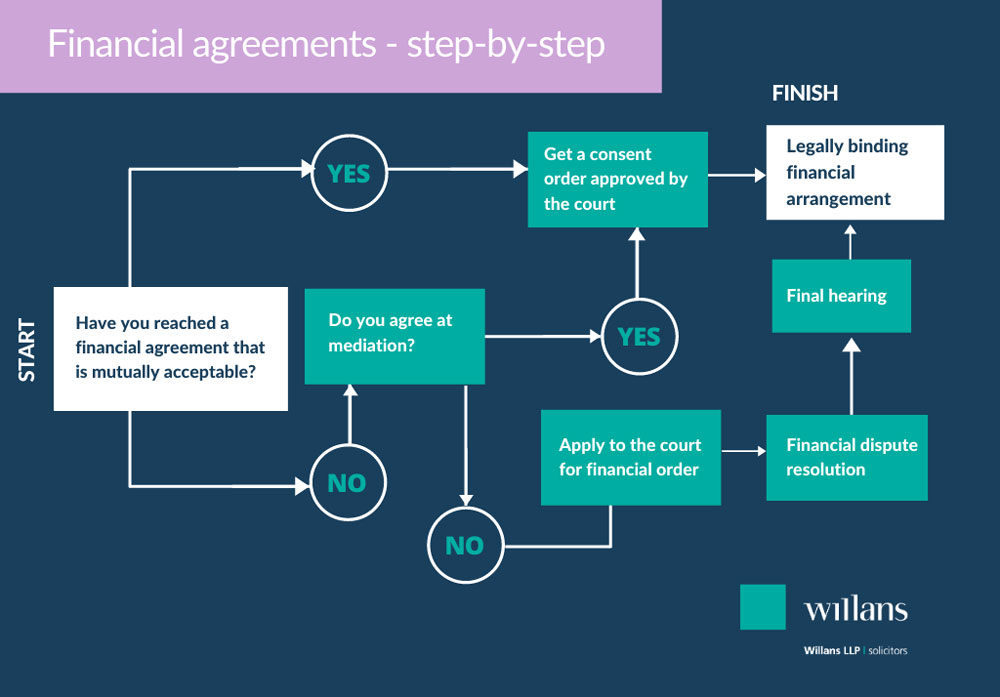 Need help with dividing your assets or finances when splitting up? Contact us.
Contact us
Are assets split 50/50 in divorce in the UK?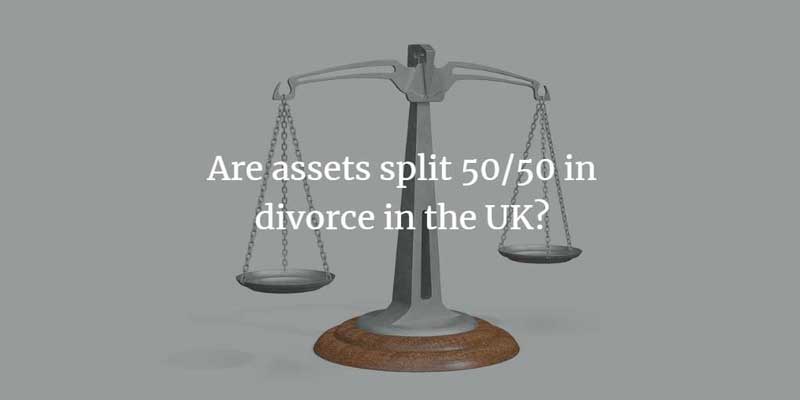 The general 'rule' is, if a 50/50 split of your assets ensures that both parties' capital needs are met, then there is a very strong likelihood that this is how the court will decide to divide the marital assets.
There may be reasons for not dividing the assets equally. For example, an unequal division may be necessary to meet one of the parties particular needs. Or, some of the assets may be non-matrimonial in nature, such as inherited money or post-separation accrual.
You must think about the individual needs and circumstances of both parties when deciding the division of assets. The courts will look at what will enable both of your needs to be met, with the first consideration being any children involved under 18.
For instance, if you are a stay-at-home parent and have been out of the workplace for a number of years whilst caring for your children, you might need a higher share of financial support than your ex, supposing they have a stable job with good earning potential, in order to assist you getting back into work.
When do we need to decide how our assets are to be divided?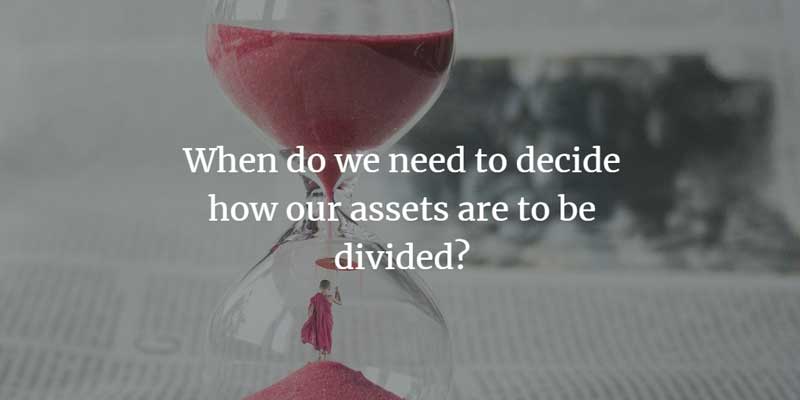 It is often easier to work out how you will share your finances and assets before you apply for your decree absolute in divorce or final order in dissolution of a civil partnership.
The timing of sharing out your assets is another important thing to consider. This will affect how much tax you are liable for and can also bear influence on the division of other things. It is always best to seek tailored legal and financial advice.
Need assistance with the division of your finances or other assets? Contact us.
Contact us
We have agreed on how to split the finances. What next?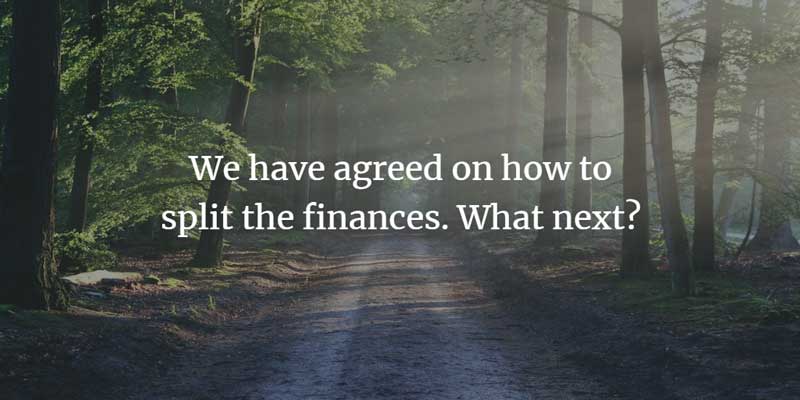 If you have come to a mutually acceptable agreement on the division of your money and your assets (property, investments and so on), you will need to make it legally binding. A handshake is not enough; if you run into problems later down the line, your agreement won't be enforceable.
While your divorce or the dissolution of your civil partnership formally ends the legal relationship between you and your partner, this does not mean that your financial claims and obligations towards one another have been dismissed.
To make your agreement official and to ensure that your financial claims against one another are dismissed, you'll need a legal document called a 'consent order'. This is unique to both of you and details the division of your assets. When approved by the court, a consent order – including a 'clean break' clause – will prevent you and your former partner from being able to make financial claims against each other in the future.
The consent order may also include how spousal and/or child maintenance payments will be managed.
We would always recommend finding a lawyer or solicitor to draft your consent order. This is a legally binding document and it's important that crucial details aren't overlooked.
The court will need to approve your consent order. A statement of information form and a £53 court fee will need to accompany this as well as other forms such as a pension sharing annex if applicable. (You can check to see if you qualify for financial help with the court fee at Gov.uk). Your divorce or dissolution proceedings must be at a certain stage before the court can approve your consent order and if the court decides that your consent order is not fair, they may ask for it to be amended.
Need help with navigating a divorce or separation as a business owner or shareholder? Contact us.
Contact us
We can't agree on how to divide our assets – do we need to go to court?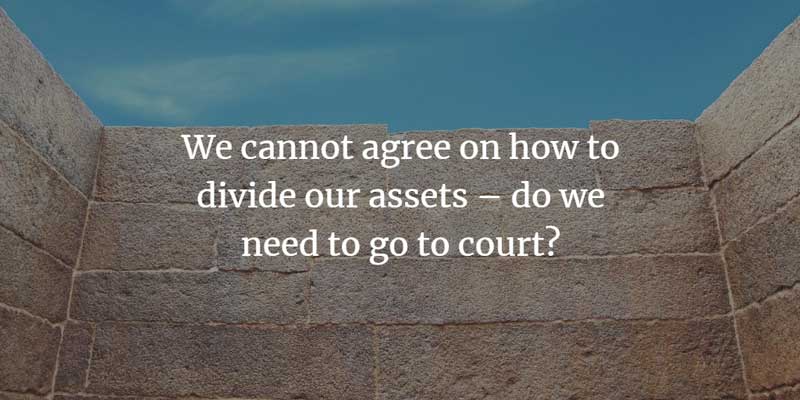 Money is always a sensitive issue and disagreements surrounding division of family finances are incredibly common.
The good news is, not all disputes over money end up in court.
Family mediation is a recommended first step if you are having difficulty reaching an agreement with your ex-partner. A family mediator is an independent person who can help you both to decide on the division of your assets. Reaching a resolution via a family mediation service is much cheaper, and arguably less stressful, than going to court.
Before you take this step, you will need to carry out an initial assessment (a MIAM) with a family mediator for a small cost.
If you reach a resolution through mediation, then the mediator will provide you with a written agreement. This is called a memorandum of understanding and it is not a legally binding document. If you want the agreement to be enforceable, you'll need to get a consent order approved by the court. A family law solicitor or lawyer can draw this up for you.
There are some circumstances in which mediation may not be appropriate or helpful, for instance where there is domestic abuse. Your mediator will help to advise on the best course of action for your circumstances.
Sometimes mediation is not successful and you may find that you cannot reach an agreement together. At this point, you'll need to instruct a divorce or separation solicitor or lawyer to help you resolve the disagreement. This may take the form of constructive negotiations, round table meetings, collaborative law, arbitration, private FDRs, or, as a last resort, going to court.
Need help with reaching a financial agreement when separating? Contact us.
Contact us
I am a business owner. Are my shares marital assets?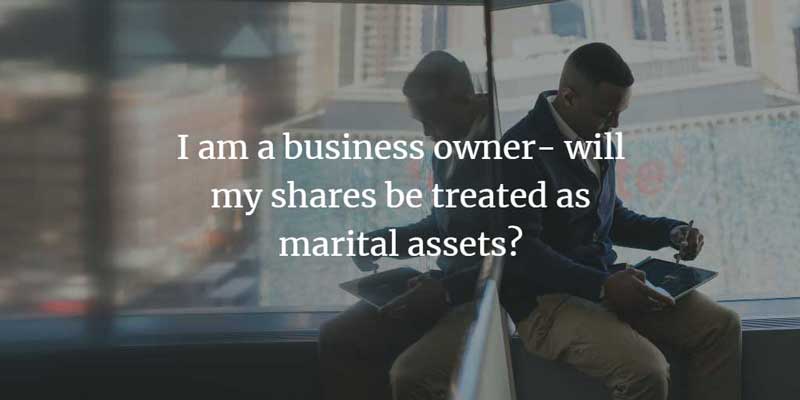 For business owners, the business is often the source of wealth. It may well be the source of future income too. When you divorce or separate, any interest in the business such as a directorship, shareholding or employment contract will count as a part of the matrimonial assets and so may be divided.
The court and the divorcing parties need to consider factors like the weight of the business valuation, and how that relates to the division of other assets.
If you are a business owner divorcing or separating, remember that the value of the business for the purpose of the divorce may be a lot less than the value of other assets, like the family home or cash.
If you find yourself in this situation, you will need specialist advice. It is important to consider any other parties who may suffer the knock-on effects of any change in the business valuation. These might include other family members, shareholders, and staff.
Prenuptial agreements (also known as prenups), are not legally binding on the UK courts, but are a persuasive factor if entered into correctly. They can be a useful way of clarifying to the court what you have agreed upon with your spouse in terms of the assets you own, including shares of the family business, if a divorce takes place.
If you'd like to learn more about preparing one of these, you can read a complete guide here from our prenuptial agreement solicitors.
So, in summary, the value of your business interest is likely to be included in the matrimonial pot of money for sharing on divorce. It is often sensible to involve your accountant or an agreed tax and finance expert in your discussions.
Need help with navigating a divorce or separation as a business owner or shareholder? Contact us.
Contact us
Who keeps the house in a divorce or separation in the UK?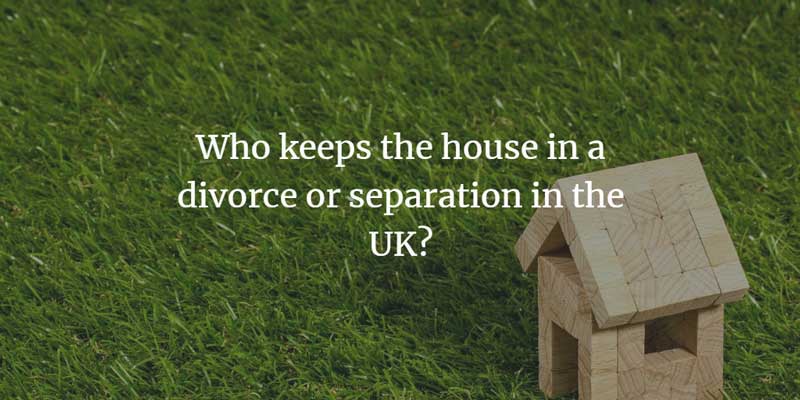 For many couples, the family home is the most significant asset they own. The question of "who keeps the house?" can be the subject of much disagreement.
If one of you solely owns the home, then it does not mean that the court cannot alter this ownership. Likewise, if you jointly own property, the court can still force the transfer of the property into the sole ownership of one of you.
Where your separation or divorce involves children, they will need somewhere safe and suitable to stay with both parents. If your divorce goes to court, the court will take this into consideration.
If you jointly own the house, you have several options, including:
Sell the house. You both move out and use the proceeds towards a new place to live for each of you.
One of you could 'buy out' the other.
You could keep the home jointly between you and sell it later.
One of you could transfer part of the property value to the other. This can be detailed in the financial settlement or financial order. When the property is sold later, the other party receives their share of the sale proceeds.
If you have a mortgage and you jointly own the property, the courts are not able to force your mortgage lender to release one of you from the mortgage. In situations like this, the joint ownership may have to continue long-term. A solicitor can draw indemnities into your financial settlement agreement. This is to protect the person who doesn't stay in the home but remains potentially liable for the mortgage payments.
Need tailored advice on divorce, separation, your property and other assets? Contact us.
Contact us
What does the law say about divorce and finances?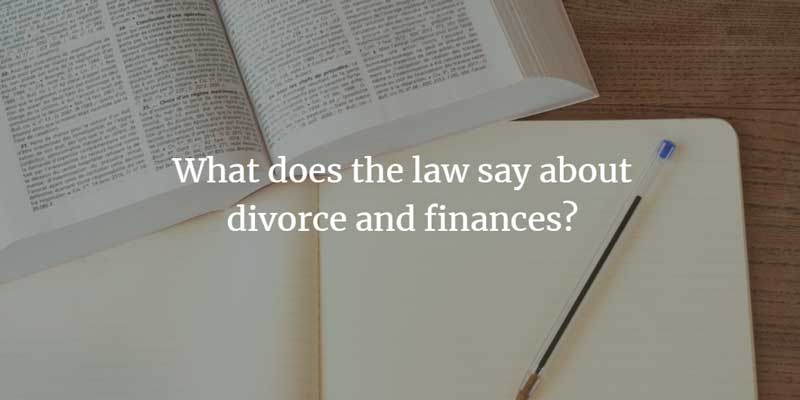 There is no strict template to follow when it comes to dividing up finances upon a divorce or separation. This is simply because everyone's situation is different.
There are some basic principles in the law that offer guidelines to judges on how to fairly divide assets.
Here are some examples of the types of considerations a court must make. These also apply to you and your ex when trying to come to an agreement out of court, perhaps with help from specialist family law mediators and solicitors.
Children's welfare is the first consideration, and how much money each person will need to look after the child when in their care. The practicalities and funding of childcare will also come into these discussions.
Factors such as individual property, income, savings and potential for earning (or 'earning capacity') will also be part of the equation.
Standard of living is also a consideration, and the courts will seek to preserve this as far as possible. This can include things like private schooling for your children, standard of housing, frequency of family holidays and other lifestyle factors. Of course, there is going to be less money to go round after a divorce or separation, so there inevitably will need to be some degree of adjustment to what you are used to.
Your age, and how long you have been married, ill health or disabilities are also factors that a court will consider when it comes to working out who needs what, and what constitutes a fair division of assets on divorce or separation.
Other considerations
The contribution you make to your household is not just financial; raising children and maintaining the home is just as important as the money you bring in, in the eyes of the UK law.
If one of you was objectively more responsible than the other for bringing the relationship to an end, that person will not normally be penalised in the settlement by UK courts. There may be an exception to this in cases of extreme violence and/or serious crime.
Need specialist guidance on financial matters involved in ending a relationship? Contact us.
Contact us
Do I need a solicitor or lawyer to handle the financial aspects of my divorce or separation?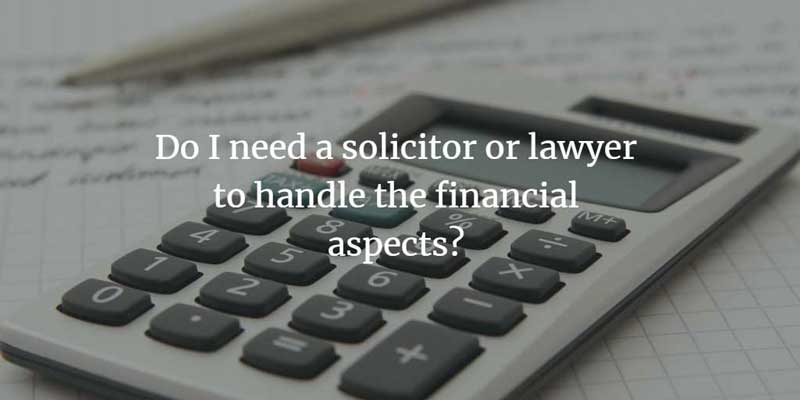 It is not a requirement to use a lawyer when it comes to navigating the divorce process. It is, however, advisable, particularly if you have complex and/or high-value assets.
Legal advice from a professional is also strongly advisable if you are in a vulnerable situation. An example could be if you are facing domestic violence or homelessness, or your individual financial position is weaker than that of your ex.
Legal professionals can provide invaluable advice and support. They help with untangling matters such as investments, properties, businesses and overseas assets.
If you have to go to court, your lawyer or solicitor will represent you and stand up for what is fair. They will also answer your questions throughout the process, manage your expectations of how long things will take and advise how much it will cost. They will also be able to give their professional opinion on what outcomes you can expect for you and your children.
Need specialist legal advice on financial remedy, divorce or separation? Contact us.
Contact us
Expert financial remedy advice helps to make sure that the distribution of assets is fair. Independent legal guides The Legal 500 and Chambers UK rate Willans' divorce and financial remedy team based on client feedback. Contact us for specialist, timely advice on separation and divorce.
Disclaimer: Please note that this page is for guidance only and does not replace legal advice. 
Disclaimer: All legal information is correct at the time of publication but please be aware that laws may change over time. This article contains general legal information but should not be relied upon as legal advice. Please seek professional legal advice about your specific situation - contact us; we'd be delighted to help.