Business immigration and COVID-19: FAQ for employers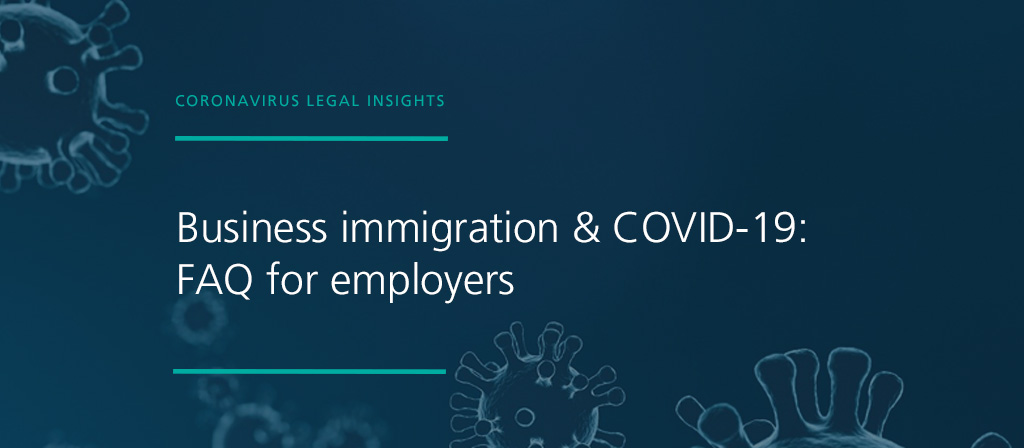 30 April 2020
For employers, keeping pace with employment law guidelines in the light of the coronavirus (COVID-19) crisis is no easy task, and businesses who sponsor workers from overseas face another layer of complexity. The Home Office and UK Visas and Immigration have provided guidance on the current situation, and here, we run through some frequently-asked topical questions regarding employee sponsorship and right to work checks.
Click the links to jump to the questions and answers, and as always, please do feel free to get in touch with our specialist team if your business is in need specialist guidance.
Can we furlough a sponsored employee?
Home Office guidance does not expressly refer to furlough leave, but it does state that a sponsored worker's salary can be temporarily reduced if the business has temporarily closed or reduced trading; this would strongly imply a sponsored worker can be furloughed.
What is clear is that any reductions to salary are temporary, with full salary being restored in the future, and that a reduction is made as part of company-wide measures to avoid redundancies. For example, no sponsored employee can be individually singled out for furlough.
Do we need to let UKVI know if a sponsored employee is furloughed?
The guidance does not state whether it is expected that a reduction in salary is reported via the sponsor management system, but it would be sensible to do so. Any redundancy will need to be reported.
Do we need to let UKVI know if a sponsored employee is working from home, rather than their usual workplace?
No – UKVI have confirmed that you do not have to notify them of sponsored employees who are working from home due to coronavirus. However, you should bear in mind that other changes regarding working arrangements will still need to be reported (such as change in job title or core duties), and likewise if temporary changes are made more permanent (i.e. beyond lockdown) these will likely need to be reported.
Do we need to let UKVI know if a sponsored employee is absent from work because of COVID-19?
No – UKVI have confirmed that you do not need to report absences of sponsored employees that are related to coronavirus, even if a sponsored employee is absent from work without pay for more than 4 weeks.
We had assigned a Certificate of Sponsorship to someone, but now they can't travel to the UK so the start date is incorrect. What happens now?
UKVI have confirmed that they will consider visa applications from individuals in this scenario on a case-by-case basis.
We already sponsor an employee, but their visa has run out. Can we still employ them?
Yes, but only if:
you had already assigned a Certificate of Sponsorship (CoS) to them, and
they had submitted their application for a new or extended visa before their current visa expired, and
the role they will be employed in will be the same as the one on their CoS.
You will need to bear in mind that you will still be expected to record information for that employee as you would if their visa application had been approved. Should their application be rejected, you will be expected to terminate their employment.
Are we still expected to carry out right to work checks during lockdown, and if so, how?
Yes, all businesses (regardless of whether they sponsor or not) are still required to conduct checks to confirm a prospective employee has a right to work while COVID-19 related measures are in place.
Employers are allowed to adjust their current processes. For example, businesses can ask for a scanned copy or photo of a passport and/or biometric residence permit to be emailed. Then they can arrange a FaceTime or video call with the individual, during which they should be asked to hold up the original document.
It is important that a detailed record is made, noting the date of the check, the documents presented in the call, the name of the individual carrying out the check, and that the check was adjusted due to COVID-19 measures being in place.
Are there any other steps or checks we could, or should, take?
It would be sensible to use the online right to work checking service wherever possible, preferably during a video call. This can be used if the individual has a biometric residence permit, biometric residence card or pre-settled or settled status under the EU settlement scheme.
If an individual does not have documents available due to an application already being processed, you should use the Employer Checking Service in order to obtain a Positive Verification Notice. This is essential in order to obtain a statutory excuse against civil penalty, should a problem arise.
Once COVID-19 measures are relaxed, you should ensure that you carry out a check as you would have normally. Current Home Office guidance stipulates that employers will have eight weeks to carry out retrospective checks, however we would advise checks are carried out as soon as possible.
We're here to help
We appreciate that it is a confusing and uncertain times for employers, but we're here to help.
Our employment law and business immigration team is fully equipped to advise you on your rights and obligations in this most unusual situation and how best to implement this guidance across your workforce.
Our legal services are operating as normal, with all of our lawyers able to work safely from home.
Please call 01242 514000 or email Helen Howes in our business immigration team and we will be delighted to help.
Email Helen
Helen is an employment law masters' graduate with extensive experience in employee relations and negotiations. She also advises businesses on immigration matters and assists them with securing sponsorship licences. 
We're regularly updating our website with more COVID-19 legal insights, so keep an eye on this page for the latest legal perspectives relating to the coronavirus.
Disclaimer: All legal information is correct at the time of publication but please be aware that laws may change over time. This article contains general legal information but should not be relied upon as legal advice. Please seek professional legal advice about your specific situation - contact us; we'd be delighted to help.
Resources to help
Related articles