IR35 – a pain in the neck? (webinar)
10 March 2022 @ 13:00

IR35 – a pain in the neck? (webinar)
March 10, 2022 @ 1:00 pm

-

2:30 pm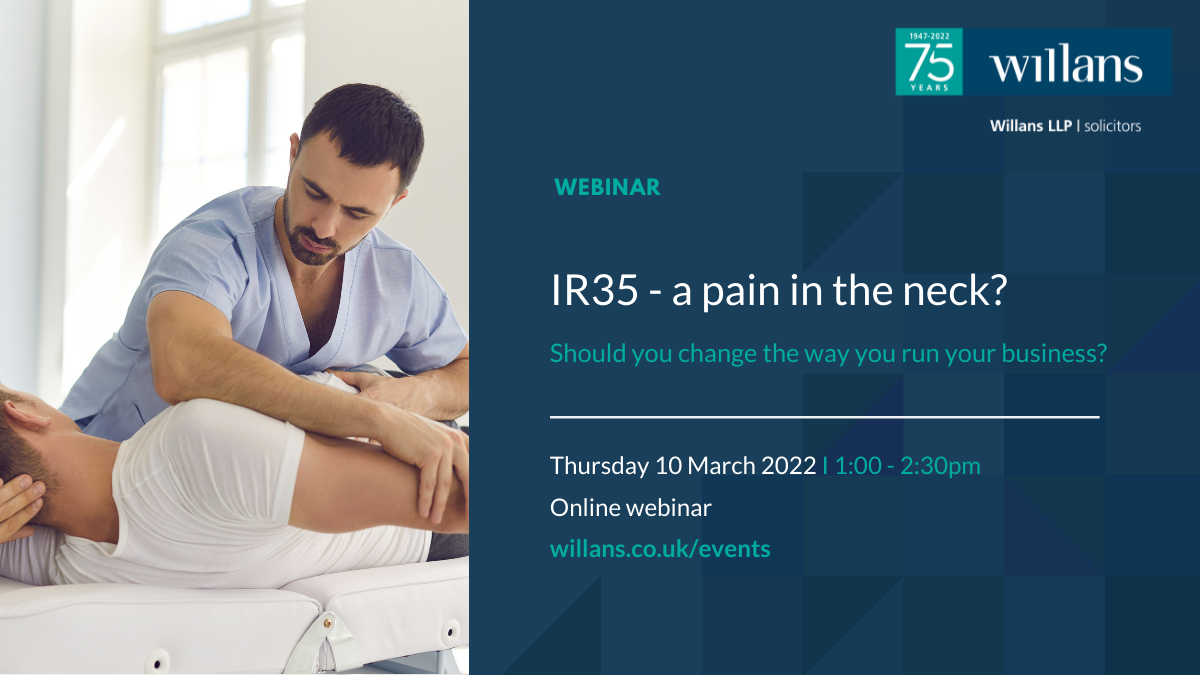 The off-payroll working rules (commonly known as IR35) mean that engaging self employed workers has become more difficult and comes with some additional risks to businesses and individuals.
This means that many chiropractic (and other health care) clinic owners may need to re-assess how they engage their associates and consider changing the way they run their business to reduce any risk to them. Equally, individual chiropractors need to consider the options open to them and how to operate within the law.
The Employment law team at Willans LLP are pleased to present a FREE webinar specifically designed to help chiropractors and other health care professionals to make these important decisions, to navigate their way through these responsibilities, and what they need to consider when deciding to employ individuals.
Topics covered:
Self-employed v employee: what are the key differences?
Implications of the off payroll working rules (IR35): your responsibilities
The basics of employment law and your responsibilities as an employer
How can you engage 'self-employed' without risk?
Interactive Q&A
Use the 'Register' button below to book your place and you'll receive joining instructions ahead of the event.
Register
Who should attend?
Clinic owners and managers
Self-employed practitioners
Time:
1pm-2:30pm including Q&A
The webinar link will be sent to everyone registered ahead of the event.
If you have any questions in the meantime, please contact us at events@willans.co.uk.
More in this series
This webinar is part of a series of free, live online events. Click here to view topics and find out more.
More ways to keep up to date
Our lawyers regularly write articles and bulletins on topical legal issues. Click here to subscribe to updates.
To find out how we use your personal data, please read our privacy notice.