Championing growing county businesses at the SoGlos Gloucestershire Business Awards 2021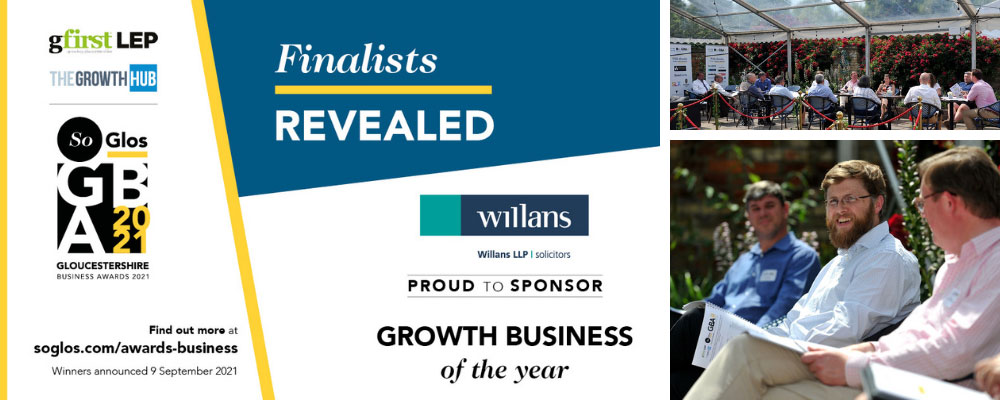 27 July 2021
We're proud to sponsor the Growth Business of the Year category in the inaugural SoGlos Gloucestershire Business Awards, celebrating the innovation and creativity that so many of the county's businesses have demonstrated over the past year.
Over 420 nominations were received from nearly 200 different businesses, and the list of finalists can now be viewed at www.soglos.com/awards-business.
The judges (including our own head of corporate & commercial, partner Chris Wills) held a socially-distanced meeting at the Cheltenham Trust's Skillicorne Gardens, a stone's throw from our offices on Imperial Square. Following much deliberation, the judges narrowed the entrants down to a small number of outstanding finalists, for each of the 17 categories.
Winners will receive a trophy to display at their premises, as well as a winner's certificate, official winner's badge to use on their website, and editorial coverage on the SoGlos website via its email newsletter and social media channels.
Head of corporate & commercial, partner Chris Wills, said: "Sponsoring Growth Business of the Year is a way of providing a platform for businesses who deserve recognition for their achievements, and reminding Gloucestershire businesses that Willans is here to support them throughout their journey.
"Although a large chunk of our client base is national and international, we wouldn't be where we are without our home-grown Gloucestershire business clients (some of whom have worked with us through multiple generations of ownership).  Our clients tend to stay with us as they develop and grow, helping us to grow too.
"All businesses in 2021 can benefit from a platform like SGGBA, no matter how big or small. The county is an exceptional place to live, work and do business, and when a well-known brand like SoGlos throws its weight behind these awards, we know it will help to reinforce this message. We all need some positivity at the moment and the SGGBA promise to be an uplifting event for the whole of the Gloucestershire business community, shining the spotlight on the outstanding efforts made by firms in the county."
We are looking forward to meeting the finalists and our fellow sponsors at the first-ever SGGBA awards evening this September – at Weston Aviation's Gloucestershire Airport headquarters.
New Business of the Year: Sponsored by Bamboo
Most Innovative Business of the Year: Sponsored by Hartpury
Growth Business of the Year: Sponsored by Willans
Family Business of the Year: Sponsored by QuoLux
Green Business of the Year: Sponsored by Ecotricity
Employer Engagement Award: Sponsored by Hazlewoods
Best Place to Work Award: Sponsored by Brunsdon Financial
Corporate Social Responsibility Award: Sponsored by RockWealth
Customer Excellence Award: Sponsored by Gloucestershire College
International Business of the Year: Sponsored by Barclays
Pivoting Business of the Year: Sponsored by Evans Jones
Entrepreneur of the Year: Sponsored by University of Gloucestershire
Employee of the Year: Sponsored by GB Solutions
Team of the Year: Sponsored by ReformIT
Heritage Business of the Year: Sponsored by Hewer FM
Business Leader Award: Sponsored by Gloucestershire County Council
Business of the Year: Sponsored by The Growth Hub and GFirst LEP (headline sponsors of SGGBA 2021)
View the finalists
Resources to help
Related articles