COVID-19 and filing obligations - the latest from Companies House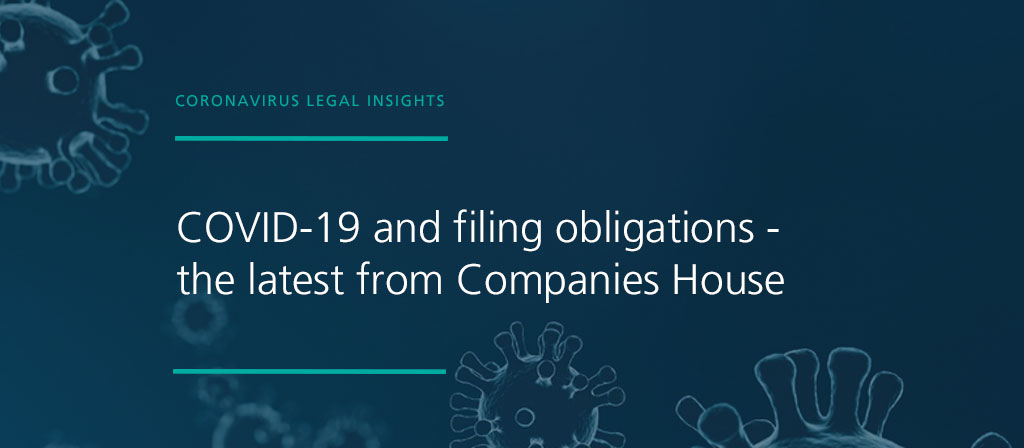 28 May 2020
The current situation of the coronavirus (COVID-19) pandemic makes it difficult for companies to remain compliant with their filing obligations. In this article, we explain some of the key changes made by Companies House, along with some practical advice for companies with filing deadlines looming.
Optimise use of online filings
With one exception (noted below), filing deadlines still need to be adhered to and Companies House are reporting delays in processing paper filings so, wherever possible, it is a good idea to file online.
If you have not already done so, you should sign up for online filing. This will trigger you receiving a unique number, known as a webfiling code, which you will need each time you file electronically. However, Companies House initially post this code to the company's registered office address, so you will need to consider if this is physically accessible before applying.
Consider applying for an extension for filing company accounts
Companies House have stated that companies are able to apply for an extension to their filing period, if their accounts are due to be filed and they are struggling to do so due to the COVID-19 restrictions.
An extension of 3 months will usually be granted. This will not change the reference date for future years; the reference date for future years will revert back to the normal filing deadline.
An application for extension can be made online via the Companies House website, and should be made before the date by which the accounts are due to be filed. A company's application for extension should reference COVID-19 as the reason for making the application, and this will tend to generate the application being automatically approved. Unfortunately, companies who have already extended their filing deadline may not be granted a further extension, and applications from companies who have shortened their accounting reference period may not be approved either.
It is worth remembering that a company which has not applied for an extension will receive the automatic penalty if it files its accounts late. It may be possible to argue extenuating circumstances if a penalty is received, but there is no guarantee that this will be accepted, and so it is worth making the most of this extension being available.
Change to voluntary strike-off process
Companies House have announced that on receipt of a voluntary strike-off application they will register the application and publish the notice in the Gazette in the usual way, but then suspend any further action to strike off and dissolve the company. This is in order to protect creditors and other interested parties who may wish to object to the strike-off, but are unable to do so in the current situation. This does not apply to applications for dissolution by way of administration or liquidation.
Same-day services suspended
All same-day services are currently suspended, so do bear this in mind if you are working to a tight deadline. That said, many electronic filings such as incorporations and company name changes are usually accepted (or rejected) within 24 hours.
We're here to help
We appreciate that it is a confusing and uncertain time, but we're here to help. Our legal services are operating as normal, with all of our lawyers able to work safely from home.
Please call 01242 514000, email Helen Howes or a member of our corporate & commercial team for advice on filing obligations for companies.
Email Helen
Helen supports the corporate and commercial team in advising organisations on corporate re-organisations, mergers and acquisitions, joint ventures and commercial contracts and GDPR. She is an employment law masters' graduate and has extensive experience in employee relations and negotiations. Helen also advises businesses on immigration matters and assists them with securing sponsorship licences. 
We're regularly updating our website with more COVID-19 legal insights, so keep an eye on this page for the latest legal perspectives relating to the coronavirus.
Disclaimer: All legal information is correct at the time of publication but please be aware that laws may change over time. This article contains general legal information but should not be relied upon as legal advice. Please seek professional legal advice about your specific situation - contact us; we'd be delighted to help.
Resources to help
Related articles