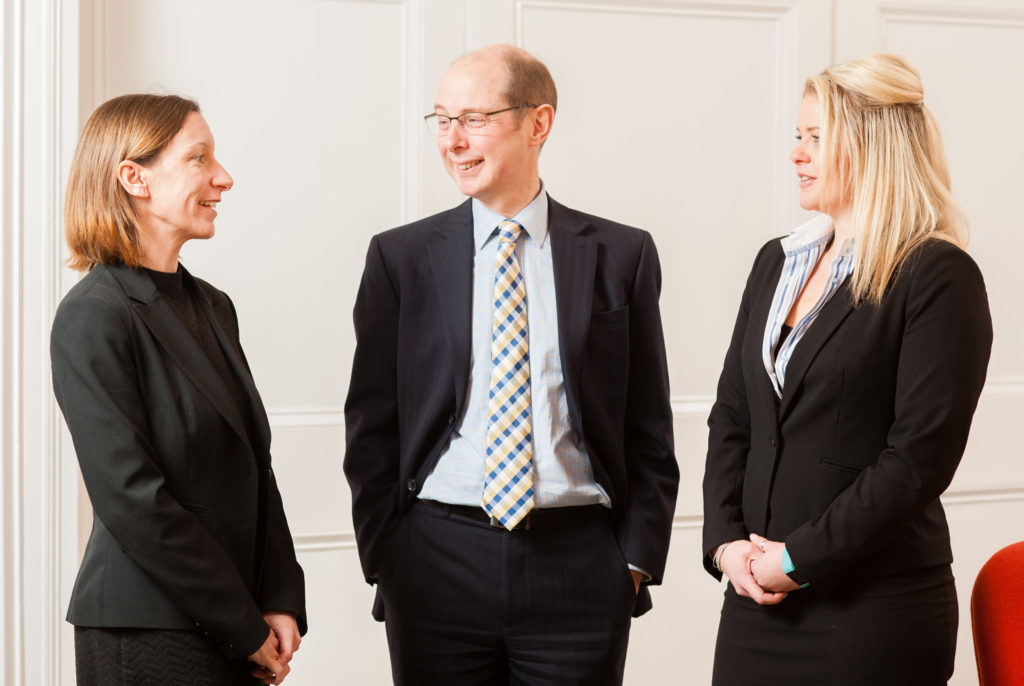 Estimated fees for different categories of case
| | | |
| --- | --- | --- |
| Type | Why your case might be in this category | Our estimated fees |
| Simple case | A small amount of documentation | |
| | A simple chronicle of events or factual background | |
| | One or two witnesses on your side | |
| | A final hearing of 1 – 1.5 days | £8,000 – £12,000 + VAT |
| Medium complexity case | Additional legal issues such as whether the claimant has  sufficient qualifying service to bring a claim | |
| | A more extensive chronicle of events or factual background | |
| | Two or three witnesses on your side | |
| | A preliminary hearing | |
| | A hearing of up to 3 days | £12,000 – £16,000 + VAT |
| High complexity case | Complex legal issues such as automatically unfair dismissal (e.g. for whistleblowing) | |
| | An extensive and complex history of events or factual background | |
| | Multiple witnesses | |
| | One or more preliminary hearings | |
| | A final hearing of more than 3 days | |
| | High value claim | £16,000 + VAT upwards |
Other factors to consider
Other factors that could make a case more complex and/or may affect the level of our fees (this is a non-exhaustive list):
if it is necessary to make or defend applications to amend claims or to provide further information about an existing claim
defending claims that are brought by litigants in person
the number of claimants (e.g. a group action brought by a number of employees made redundant)
making or defending a costs application
making or responding to other applications made during the proceedings e.g. for a financial deposit as a condition of proceeding with the claim, to strike out aspects of the claim, or for disclosure of additional documents, and dealing with the consequences of any orders made as a result of such applications
the location of the tribunal
the number of witnesses and documents
if there are complex compensation issues e.g. claimed pension losses
if there are extensive settlement negotiations, or if you wish us to become involved in early conciliation via ACAS (which is a precursor to employment tribunal litigation)
if it is necessary to appeal, or ask for a reconsideration of, any aspect of a tribunal's decision.
Our hourly rates
Our charges are based on the time we spend dealing with the matter. They are calculated according to hourly rates.
Partner                        £245 – £300 + VAT
Solicitor                       £140 – £180 + VAT
Paralegal                     £120 – £140 + VAT
Details of the experience and qualification of each member of our team can be found on our Who's Who page. Work undertaken in the department is supervised by the department head, Matthew Clayton.
Read more
The estimated fees in the first table above do not include representation at tribunal hearings (whether preliminary hearings or final hearings). There will be an additional charge if we are required to attend a tribunal hearing of £600 – £1,500 per day (excluding VAT), depending on the seniority and experience of the lawyer in question. Generally, we would allow between 1.5 and 10 days depending on the complexity of your case.
We would normally instruct a barrister to represent you at final hearings, and sometimes also at any preliminary hearings. We will always discuss with you the need for this, the choice of barrister and the likely cost. As barristers are independent of us, they will give their own quotation of fees for any case on which we might engage them. As a guide, barrister's fees will typically be between £800 to £2,000 per day excluding VAT (depending on the experience of the advocate) for preparing for and attending a tribunal hearing, but could be more than this for a very senior barrister.
Disbursements (fees payable to third parties)
In addition to our own fees, disbursements may be payable. Disbursements are costs related to your matter that are payable to third parties, such as barrister's fees. We handle the payment of the disbursements on your behalf to ensure a smoother process.
Aside from barrister's fees, other disbursements may include courier charges, bulk copying costs, travel, accommodation and subsistence costs. Motor travel is charged at 45 pence per mile.
Where referred to above, VAT is at 20%.
Key stages
The fees set out above cover all of the work in relation to the following key stages of a claim:
taking your initial instructions, reviewing the papers and advising you on merits and likely compensation (this is likely to be revisited throughout the matter and subject to change)
entering into pre-claim conciliation, if appropriate, to explore whether a settlement can be reached
preparing the claim or response
reviewing and advising on the claim or response from the other party
exploring settlement and negotiating settlement throughout the process
preparing or considering a schedule of loss
preparing for (and attending) a preliminary hearing for case management
exchanging documents with the other party and agreeing a bundle of documents
taking witness statements, drafting statements and agreeing their content with witnesses
preparing bundle of documents
reviewing and advising on the other party's witness statements
agreeing a list of issues, a chronology and/or cast list
preparation and attendance at final hearing, including instructions to the barrister.
The stages set out above are an indication and if some of stages above are not required, the fee will be less. You may wish to handle the claim yourself and only have our advice in relation to some of the stages. This can also be arranged according to your requirements.
How long will my matter take?
The time that it takes from taking your initial instructions to the final resolution of your matter depends largely on the stage at which your case is resolved. If a settlement is reached during pre-claim conciliation, your case is likely to take 4 – 6 weeks. If your claim proceeds to a final hearing, your case is likely to take between six and eighteen months, depending on its complexity. This is just an estimate and we will of course be able to give you a more accurate timescale once we have more information and as the matter progresses.
The majority of employment tribunal claims do not proceed to a full hearing, and instead reach a settlement either through conciliation via ACAS, or through mediation. We will always discuss the merits of your claim/defence with you, and use that, and your wishes, to assess the merits of seeking a settlement on your behalf. If a settlement is reached then the process may take a matter of weeks or months, depending on how long it has taken the parties to reach a point where settlement can be discussed. Our fees will then reflect the amount of work we have had to undertake in preparing your tribunal case in the meantime, and in negotiating settlement on your behalf.
Can we help you?
If you would like to find out more or would like to instruct us, please click here to request an estimate.